How Much Does a CCTV Drain Survey Cost?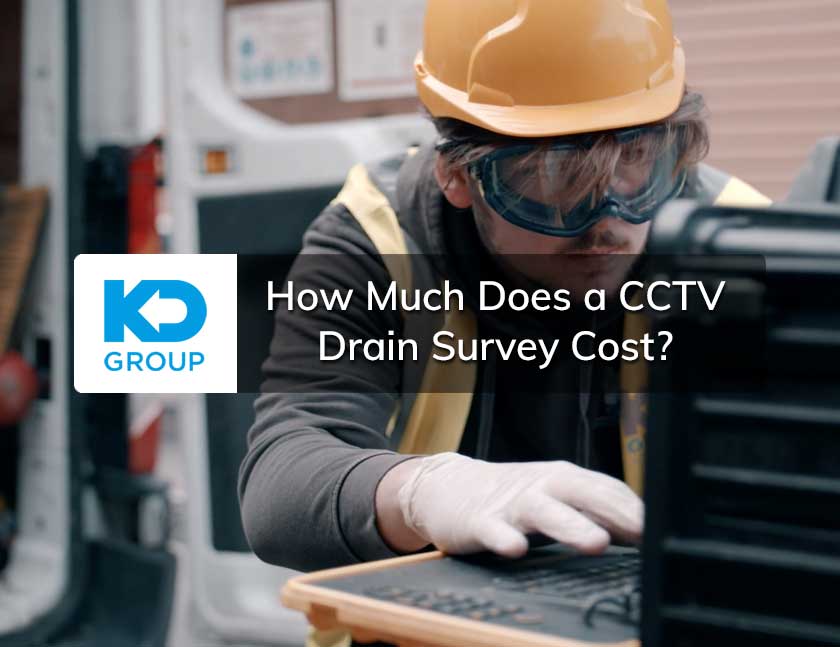 If you've been noticing poor drainage in your property, you're probably frustrated and considering what you should do in order to resolve the problem.
The answer in most cases is to carry out a CCTV drain survey.
This will enable you to determine whether a blockage is present, or if there are any damages to the underground drains.
What is a CCTV Drain Survey?
A CCTV drain survey is a service offered by a professional drainage company.
A camera engineer will carry out such a survey and issue a report which will explain the state of your pipework and drains.
This will determine what type of action is required as in most cases, there is either a blockage somewhere or damage to the pipework.
This is an in-depth inspection of the drainage system using specialized CCTV cameras.
These are inserted into the drains via an extendable hose, and live images are fed back.
The equipment used is quite advanced and detailed images and footage will be provided of the various sections of the piping.
A CCTV drain survey is generally the best option if there are any problems with blocked drains.
You will be better able to address those issues as you'll be fully aware exactly what and where the extent of the problem lies.
However, CCTV drain surveys are also recommended when an old property is purchased.
This is mostly to check the condition of the drainage system as well as address any existing issues in the drainage immediately.
CCTV drain surveys reduce the need to excavate and are thus considered as being much more effective and convenient when drainage problems occur.
How Much Does a CCTV Drain Survey Cost?
Back when this technology was firstly introduced, the price of a CCTV drain survey was quite high.
However, with technological advancements over the years, the price has become more affordable.
Generally, a drain camera inspection will cost around £90.
However most companies offer two types of CCTV drain surveys which range between £65 and £165.
These are basic drain surveys.
Should you prefer a full CCTV drain survey accompanied by a detailed report, the cost is generally between £200 and £350.
This is the best option in case there are any serious problems, which might be deeply embedded in parts of the drainage system which are hard to reach or almost inaccessible.
Factors Affecting CCTV Drain Survey Costs
There are various factors which affect the price that is charged for a CCTV drain survey.
This includes the size and type of property, the area, and the number and type of blockages that are present.
Let us discuss such factors in more detail:
Property Type
The drainage system of a property may be quite different from that of another property.
Some properties have a much more complex drainage system than others.
In such cases, it is more complicated and sometimes quite problematic to navigate the equipment in the system.
As a result, it will cost you more to have the survey carried out.
Winding dips, sharp corners and intricate designs will make the costs increase.
In some cases the drainage pipes are relatively wide, and so a larger camera will need to be used.
Since this is a more specialised and expensive camera, the price charged will end up being higher.
Drain Length
Another determining factor is the length of the drain.
Naturally if your property is on the larger side, there is more drainage pipework involved.
As a result, it will take much longer to carry out the survey, and thus the price will be higher.
In large properties it could take around 6 hours to complete a CCTV drain survey, and the price in such a case is generally between £350 and £450.
Drain Access
Some drains are much more difficult to access than others.
As a result, the CCTV inspection could be really hard to carry out.
There are also cases where one will need to excavate in order to gain access to the drainage system.
This will end up adding a considerable cost to the price, often amounting to around £200 more.
Labour Costs
The time required to carry out the survey will make labour costs increase accordingly.
The price of labour will differ according to the type of survey you opt for, as well as the size of the drainage system in question.
Additional costs may need to be factored in too.
For instance, the company carrying out the survey may also be able to offer additional services of cleaning and unclogging the drains.
In most cases this could take around 1 to 2 hours, and an extra £100 for the job will need to be added to the survey's cost.
Other common labour costs may include somewhere in the range of £500 to £1000 to install a soakaway drain.
Or, the drain survey could show that there is a line damaged, and so repairs will need to be carried out to the drain line breakage.
This could cost around £800.
Types of CCTV Drain Survey
There are two main types of CCTV drain surveys as explained below:
Basic Drain Inspection
A basic drain inspection is an exploration of the drains to give a general idea of whether there are any issues present.
This inspection will not be accompanied by a report or by CCTV footage.
The engineer will just explain what the issues are verbally, if any.
Full Drain Survey & Report
As the name itself implies, this is a more comprehensive and detailed survey.
Besides the exploration in the drains, you will also be provided with a detailed report as well as a copy of the CCTV footage for your perusal.
The written report will include the following details:
The condition of all the drains
A map of all the drains on the property
Still images
Video footage
Reasons to Get a CCTV Drain Survey
CCTV drain surveys are conducted for various reasons, and often, following a number of problems, including:
Water Backup
Over time, with regular plumbing usage, sewage backup may result.
There could also be some form of plumbing issue somewhere, resulting in water backing up and trying to find a new exit.
Toilet Not Flushing
If the toilet is not flushing properly or if you are noticing funny sounds every time you flush it, it could mean that water is backing up.
You may try to carry out some plunging, but the problem may persist.
In such a case, carrying out a CCTV drain survey is recommended.
This should be done as soon as possible to prevent any clogging up, which could lead to more serious damages or spilling.
Standing Water & Air Bubbles in Shower
If you have been noticing any bubbles forming around the shower drains whenever you take a shower, or even after you simply wash your hands, then you should be careful.
Bubbling from water could mean that there is air trapped in the drain, as the water is trying to flow through.
Bad Smells
If you have been noticing bad smells coming from your drains, this could be a sign of a blocked drain.
Clogged hair, soap, dirt, grime, and other debris gets washed down and in time they could create a blockage, which starts to emit foul smells.
Buying or Selling Property
Drain surveys are highly recommended when buying a property, especially one which is older or has a long history.
Many mortgage providers and insurers even require a home buyers drain survey before accepting to proceed with any agreement.
Construction
In case you are considering building over an existing drain, a full drain survey is highly recommended to ensure that there's no blockages that could be trapped.
This helps to reduce issues in the future, and you can save money in the long run as repairs can be avoided.
What Will a CCTV Drain Survey Find?
CCTV drain surveys are very useful to determine the condition of the pipework, as well as identify any blockages in the drainage system.
Blockages
If drains have remained blocked, even after having been cleaned out with a pressure wash, then most probably there is a serious reason that needs to be properly addressed.
Tree roots could have seeped into the system, and caused blockages or even cracks in the pipes.
Collapsed Pipes
Collapsed or cracked pipes might be the reason behind the drainage problems.
Pipes could sustain damage due to deterioration, or if tree roots have managed to penetrate the pipework.
Damage could also result from accidental excavation in the area.
Collapsed pipes are often hard to notice.
These are generally caused by regular blockages or by flooding.
In case of foul smells or slow running water, collapsed pipes in the system might be the issue.
There could also be problems such as damp and building damage.
Pest Infestation
Animals or pests could have made their way into the drainage system, and this could be very problematic.
Besides carrying various diseases, which could even find their way in the house, damages to the system will often result.
It is important to look out for any droppings or unusual sounds especially in the evening.
It is important to contact a pest control specialist immediately if you suspect a pest infestation.
Corrosion
Over time corrosion, rusted pipes and other kinds of wear and tear could result in the drainage system.
This is even more common in the case of metal pipes as they can react to different chemicals and minerals.
Rusting also occurs as a result of exposure to cold air and frozen water in the pipes.
Can I Perform a CCTV Drain Survey Myself?
No, you cannot carry out a CCTV drain survey yourself as specialised equipment is required, along with some experience to use it correctly.
Sometimes the procedure could be quite complicated, as some drainage systems are more complex.
Besides, it is better to have a professional drainage engineer carry out the inspection to make sure that you are getting the right diagnosis, and proceed with the best possible solution.
Sometimes the footage is not that easy to understand.
In some cases, jetting equipment will also be needed in order to remove any small debris that could be in the way.
Moreover, even if you were to have the equipment, you might potentially end up causing additional problems.
If you do not use the drainage rods properly, or if any equipment gets dislodged and remains in the system, you could cause more harm than good.
So, while you might be considering doing this on your own, it's definitely not worthwhile at all.
CCTV Drain Survey Checklist
Here are some important points to bear in mind:
CCTV drain surveys are most certainly not a DIY job.
Minor blockages can sometimes be removed by the drain experts who carry out the survey.
Besides conducting a drain survey if you notice any problems, it is highly recommended to get such a survey done when buying an old property as chances of issues in the drainage system will be higher.
It is important to hire a professional drain expert who is backed up by years of experience and the relevant accreditation.
Do some research to get a better idea of the prices for such services. It is also advisable to talk to a number of different drain surveyors to get quotes as well as discuss the various options.
It is a good idea to sign a written agreement when you choose a drain surveyor, prior to having any work commence. Finally, also ask for a receipt or payment confirmation.
Frequently Asked Questions
Q: What Do CCTV Drain Survey Reports Include?
A detailed drain survey report will include the following:
Pipe materials, lengths and diameters.
Direction of flow.
Drain usage.
Water levels.
Invert levels of accessible manholes.
A plan of the manholes.
Images of the observations made.
Findings and conclusions, along with recommendations.
Q: How Can I Prevent Future Drain Blockages?
Drain blockages are not a pleasant experience at all.
Besides being inconvenient, they could also be quite costly to deal with too.
So it is a good idea to take some preventative measures in order to reduce the possibility of future drain blockages.
Here are some tips:
Scrape away any food from plates before washing them.
Avoid dumping any oil and fats in the drain.
Make sure sanitary products are not disposed of in the toilet or flushed.
What Type of CCTV Drain Survey Do I Need When Buying Property?
When buying a property, you will need a comprehensive survey to be provided with a detailed report of the condition of the drains.
This report will need to be passed on to the insurance and mortgage provider, if any.
Conclusion
CCTV drain surveys are useful in a variety of cases as discussed.
Luckily the prices have become more affordable over the past years as technological advancements were made, offering a reliable and effective solution to tackling most drainage problems.
If you suspect you have a drain problem that requires an extensive inspection, contact the team here at Kent Drainage to book your survey.