Drainage or Plumbing issue?
No problem. Our expert team will get it fixed, fast!
Septic Tank Installation
Septic Tank Specialists Across Kent & London
We are specialists in the installation of a variety of models of foul drainage systems, including septic tanks. With over 20 years of experience, we've established ourselves as a leading installer of septic tanks and sewage treatment plants.
KD Drainage offer a full range of septic tank services including repair, installation and septic tank inspections for both commercial and domestic customers. At KD Drainage, you can count on us!
Our services throughout Kent and London include but are not limited to:
Commercial consultancy and installation of septic treatment plants
Commercial maintenance and repairs of septic treatment plants
Domestic/household installation of septic treatment plants
If you have an enquiry about a septic tank installation, call us today on 01622 919012.
Our Services
Site Inspection & Consultation
Septic Tank Installation
Septic Tank Inspections
Septic Tank Repairs
Sewage Treatment Plants
Groundwork
All Works Guaranteed
No Hidden Fees
20+ Years Experience
What is a Septic Tank?
Similar to a sewage treatment plant, a septic tank is used to treat waste water and sewage through biological decomposition.
Septic tanks can be installed in households to treat water, as well as installed in commercial buildings to treat waste water from kitchens and bathrooms.
Put simply, a septic tank is a rectangular watertight container that contains two compartments, separated by a wall, and is installed underground.
Whilst septic tanks safely allow the disposal of sewage wastewater in domestic homes that have poor drainage systems or that are not connected to the sewer mains, this system still only provides basic water treatment.
There are two types of septic tanks: a septic tank with a soakaway and a septic tank without a soakaway.
A septic tank with a soakaway, correctly disperses the effluent waste into a drainage field. A septic tank with no soakaway discharges this directly into a water source such as a river, lake, or stream.
From 1st January 2020, this no longer conforms to the Environment Agencies requirements. Therefore, if you own a septic tank with no soakaway, this needs to be upgraded straight away.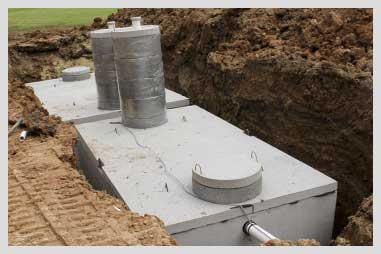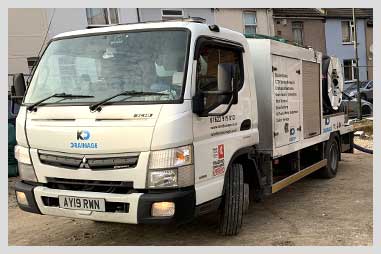 Why Do I Need a Septic Tank at Home?
If your household is not connected to a main sewer, you will need a different system installed. Typically, this is either a sewage treatment plant or a septic tank.
A septic tank provides an efficient way to dispose of the wastewater that comes from your household, for example, from bathrooms, kitchen drains, and laundry water.
Septic tanks are typically installed in rural areas. This is because in cities and towns, wastewater is usually transported and dealt with by a sewage system, and maintained by a local water company, thus septic tanks are needed less.
How Does a Septic Tank Work?
A septic tank is made of two chambers separated by a wall, with a gap that allows water to flow between the two.
The first is known as the 'settling chamber' and receives wastewater from an inlet pipe. In the settling chamber, lighter solids, oils, and grease (known as scum) float to the top of the water.
The solids such as sewage waste is drawn to the bottom where this is broken down by natural bacteria, so the water can leave the tank. The remaining liquid flows into the second chamber, and then out of the tank into a drainage field, ensuring only liquids are drained from the septic tank.
Typically, septic tanks have a T-shaped outlet that prevents any scum or other waste from leaving the tank, before flowing into a specified drain field area.
After the wastewater is filtered in the tank and leaves through an outlet into the drainage field, naturally occurring aerobic bacteria (also known as waste-degrading bacteria) break down any remaining waste, allowing the water to be naturally replenished.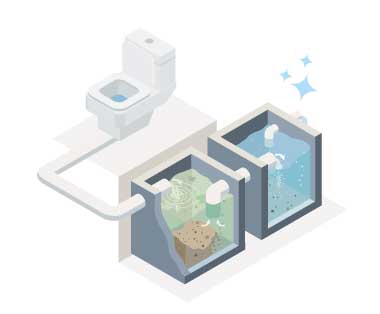 The solid waste left at the bottom of the tank after this process is carried out, is what needs to be removed periodically as part of general maintenance by a registered waste carrier.
Septic tanks can be made from fibre glass, plastic or concrete and are typically installed underground around 50 metres away from a household.
Important: As of 2020 it is illegal to have a septic tank that discharges wastewater to a local watercourse such as a drainage ditch, river, or stream. This must be discharged to a soakaway or drainage field. If you own or are selling a property, the septic tank system must be upgraded.
KD Drainage also install Sewage Treatment Plants for both commercial and domestic customers throughout London and Kent. Contact us to find out more about our services.
Septic Tanks vs Sewage Treatment Plants
Septic tanks are a step-up from traditional cesspools, which store wastewater and must be emptied on a regular basis as they only partly process the waste.
Sewage treatment plants treat wastewater entering a pit and then discharges it to either a local water course or a man-made soakaway. A sewage treatment plant essentially does the same thing as a septic tank but is a further evolution.
Both septic tanks and sewage treatment plants separate liquid waste from the solid and transport this elsewhere. However, a septic tank is a two-step process, whereas a sewage treatment plant is a three step-process.
This means the water pumped out of a sewage treatment plant is purer and more hygienic.
Whilst there are some benefits to having a sewage treatment plant over a septic tank, sewage treatment plants are more complicated and can often be most costly.
If you can discharge your wastewater directly into a watercourse or drainage ditch, a sewage treatment plant is the best match for you. Visit our page on sewage treatment plants for more information.
The main differences summarised:
Although both sewage treatment plants and septic tanks separate and treat wastewater, water leaving a sewage treatment plant is often a lot cleaner than that leaving a septic tank.
Waste from sewage treatment plants can often be discharged into a watercourse, such as a stream or lake, or drainage ditch due to an extra stage of cleaning.
Septic tanks can run without power whereas sewage treatment plants require an electrical supply.
Septic tanks do not require servicing unlike a sewage treatment plant.
Benefits of Septic Tanks
There are many benefits to having a septic tank installed:
Durability
Once a septic tank has been installed, you generally do not have to think about them again. These are pretty durable and have a usage time of around 20 to 40 years. For a lot of people, this will be the length of time that they spend in a property before moving, thus, they rarely need to be replaced.
There are also measures you can take to extend the life of your septic tank such as not pouring fats and oils down the drain, and being careful with toilet paper, food waste and water softeners.
Low Maintenance
Septic tanks require a small amount of maintenance over time, and with our cost-efficient maintenance plans, we have you sorted! For more information, call us today on 01622 919012.
Cost Efficient
Septic tanks are much more cost efficient than the installation and maintenance of extensive sewer pipes. A septic tank is cheaper to install and doesn't wrack up monthly maintenance costs.
Environmentally Friendly
Septic tanks tend to be fairly eco-friendly as flushing any form of cooking oil, grease, coffee grounds or various other items can damage the system. Thus, septic tank owners tend to learn to not flush these items into their drainage systems.
Also, as the bacteria is removed before being released from the tank, the recycled water is absorbed by plant life.
How Much Does a Septic Tank Cost?
The cost of a septic tank depends on the size of the tank. However, typically, the price of septic tanks range from £800 to £1,200.
As a standard size, the minimum size of a septic tank is 2,700 litres, and is able to be used by up to 4 people. After this, 180 litres should be added to the septic tank for every additional person using it.
Typically, for a house with 3-5 bedrooms, a 3,750-litre tank is recommended, which caters to a maximum of 11 users.
Sometimes finding the correct sized septic tank can be tricky. If it is too small, you may find that you have issues with your drainage system backing up as the tank is not big enough. Similarly, you do want to have to incur the extra installation and maintenance costs of a tank that is too big if there are few people using it.
For advice on which sized septic tank you need installed, call us today on 01622 919012.
Contact KD Drainage
If you wish to know more about septic tanks or sewage treatment plant installations in London, Kent, and surrounding areas, call us today to speak to one of our specialists directly.
It is important that you find the right professional to regularly maintain your septic tank to prevent issues such as clogs in the pipework, so call us today!
For a FREE quotation for any septic tank service including installation, replacement or inspection, contact us on 01622 919012 or email info@kddaa.co.uk.