How to Unblock a Shower Drain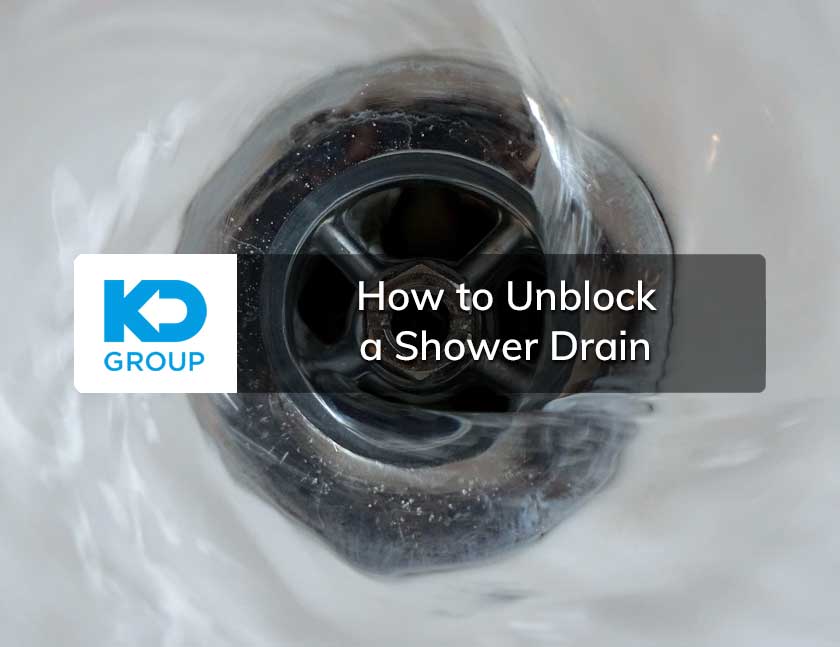 If you've noticed a considerable amount of water accumulating whilst you're having a shower, you need to learn how to unblock a shower drain correctly.
Or is the water draining very slowly, or worse still, not draining at all?
Then most probably your shower drain has become blocked.
It is important to unclog the shower drain as soon as possible to avoid the blockage from getting even worse.
Why Do Shower Drains Clog?
There are various reasons why shower drains clog.
Some are simple and easy to solve, while others are more serious.
In such cases, professional assistance is required.
It is important to investigate the blockage to identify what the problem is, and to take action as soon as you can.
The following are some of the main reasons why shower drains get blocked:
Dead skin cells that are shed from the body while showering.
Strands of hair, especially long hair.
Soap scum deposits to which both skin cells and hair get attached.
Hard water increases the probability of blockages developing. There are more deposits on the walls of the pipes, including minerals and micro solids which are typically found in hard water.
Various contaminants and small items which may fall down the drainpipe, such as razor coverings.
Signs of a Blocked Shower Drain
The main indications that the shower drain is blocked include:
Standing water in the shower.
The water is not draining away as quickly as it normally did.
You may notice unpleasant smells coming from the drain.
In very serious cases there could also be flooding in the bathroom as the water may start to seep through the shower joints.
How to Unblock a Shower Drain
There are various ways to unblock a shower drain, but the effectiveness depends on how serious the blockage is.
You may try some basic remedies yourself.
But bear in mind that if the blockage is a problematic one, it's best to call a plumber or drain cleaning company to carry out the job properly and effectively.
Using a Plunger
You can start by using a traditional plunger.
You may wish to add some petroleum jelly onto the edges of the suction pad, as this will help to generate a better seal.
The plunger is the most basic tool for such a job, and it will only work according to the design and location of the drain, as well as the type of blockage.
In cases when the clog is considerably deep, it is often difficult to generate enough suction to unclog the blockage effectively.
Boiling Water
Sometimes blockages are caused by soap residue and grease.
So you may wish to try pouring some very hot water to break it down.
Be careful while pouring the water so that it does not splash back onto you or perishable bathroom accessories.
Often this method on its own will not be enough to clear most blockages.
It is also important to note that using large volumes of water that is at its boiling point could cause the pipes to warp and get distorted, so it is not an option that should be repeated very often.
Baking Soda & Vinegar
A mixture of baking soda (bicarbonate of soda) and vinegar can be quite effective to break up clogs caused by hair and dead skin cells.
Pour a cup of baking soda directly down the drain.
After a few minutes follow up with a cup of vinegar.
Allow a couple of hours to pass and turn on the shower to check if the blockage dissolved.
Pour some hot water to clean out the drain.
Clear the Clog by Hand
This is not such a pleasant option, and definitely one of the messier methods.
You will need to take off the drain cover.
Using a flashlight, try to check if you can see what is causing the blockage.
It may be that there is a clog within a distance that you can manage to reach.
Put on a pair of disposable gloves to try to pull it out by hand.
Should the clog be a little further down, you may wish to try using a hook to pull it out.
If the clog is caused by hair, this will be quite easy and often effective.
But in cases when the blockage is caused by a build-up of minerals and other residue, you will not manage to clear the clog by hand.
Plumber's Snake
Try using a plumber's snake, or as it is also referred to, the electric eel or toilet jack.
Push this tool down into the drain until you can feel the clog within.
Turn the snake's handle, and then pull it back up.
Open the shower to run water through the drain to clear out any other residue.
Check whether the water is flowing and draining more smoothly than before.
If not, try to repeat the process as there may be more clogs further down.
Wire Coat Hanger
A wire coat hanger can work well for blocked drains.
Try uncovering the plughole.
Then straighten out a wire coat hanger, and use the hooked end to reach the blockage.
In this way, with the hook you will be able to fish out the debris and the blockage can be removed.
Gently twist the coat hanger until the blockage is dislodged and pulled out of the drain.
Drain Unblocker
There are a number of chemical products which can be bought in stores to try unblocking shower drains.
Be careful not to use such chemicals too often though as they may cause damage to the pipework over time.
It is also important to always exercise great caution when using such products as they can be harmful.
Wear gloves and possibly even protective eyewear, and always follow the particular instructions carefully.
It is also important to ensure that the room is well ventilated when using such products.
Call a Professional
In the case of a small blockage. you may manage to get some results with one or more of the above methods.
However in more serious cases, you will need to call a professional drainage company to see to it.
If none of the above methods worked that well, or at all, then it is definitely a job that needs to be done by a professional who has more tools and knowledge for the task.
Conclusion
A blocked drain is not such a pleasant experience.
Nobody likes to end up with tepid water and unpleasant odours every time someone takes a shower.
It is recommended that you prevent blocked shower drains by installing drain screens to trap soap scum, hair and other debris from making its way into the drain and leading to clogs.
These screens need to be cleaned regularly too.
Sometimes though, even with such preventative measures blockages still result.
While the above mentioned methods may work well enough in some cases, it is often best to contact a drainage company to see to the blockage in the most effective manner.