Drainage or Plumbing issue?
No problem. Our expert team will get it fixed, fast!
Vacuum Tankers
What is a Vacuum Tanker?
A vacuum tanker is designed primarily for suction and the transportation of liquids, sludges, and hazardous or non-hazardous waste materials in the drainage industry.
It's equipped with a powerful vacuum pump that creates a vacuum inside the tank, allowing it to draw in and hold liquids and solids through a suction hose.
Vacuum tankers are commonly used for collecting sewage, wastewater, industrial liquids, and cleaning out septic tanks, grease traps, and cesspools.
Our vacuum tankers can generally only remove liquid waste material; however, our combination tankers can be used to turn dry material into liquid using its high-pressure jetting mechanism.
KD Drainage has the capability to transport liquid waste and turn dry material into a liquid form to be sucked up and removed from the site.
For all enquiries about our vacuum tankers, call us on 01622 919012.
Our Services
3.000 Litres Water Tank
Fully Radio Remote Controlled
Secure, Shuttered Storage Space
Mechanical Tank Level Indicator for Waste Water
All Works Guaranteed
No Hidden Fees
20+ Years Experience
What is a Vacuum Tanker Used For?
Vacuum tankers have multiple applications and can be used for a wide range of drainage services.
Sewage Collection
Vacuum tankers are frequently used for collecting and transporting sewage from septic tanks, cesspools, and sewage treatment facilities. They play a crucial role in the sanitation and maintenance of urban and rural areas.
Industrial Waste Removal
Our vacuum tankers can also be used to remove waste from industrial facilities using proper disposal processes of industrial waste.
Grease Trap Cleaning
Restaurants, commercial kitchens, and food service establishments use vacuum tankers to clean and empty grease traps regularly. Grease traps are designed to capture fats, oils, and grease from wastewater, preventing them from clogging sewer systems and prohibiting the running of the establishment.
Drain & Pipe Cleaning
Vacuum tankers can be used for clearing clogged drains, pipes, and sewer lines. They can remove debris, sediment, and other obstructions, restoring proper flow in your drainage system.
Liquid Spill Cleanup
We can employ our vacuum tankers in emergency situations where there's a liquid spill to contain and remove the liquids safely.
Portable Toilet Servicing
Vacuum tankers are commonly used to service and empty portable toilets or chemical toilets at events, construction sites, and other locations where traditional sewage systems are not available.
No matter how big or small the mess, our vacuum tankers can be sent to sites for both domestic and commercial clients.
How Does a Vacuum Tanker Work?
A vacuum tanker is built from a large, cylindrical container made of robust materials designed to withstand the pressure created during suction and transportation.
The core component of a vacuum tanker is the vacuum system, which includes a vacuum pump usually powered by an engine.
The vacuum system is connected to a flexible and long suction hose with a nozzle that facilitates the suction process.
A vacuum tank works by using a pump to create negative air pressure, giving the vacuum extreme suction power.
After the air is removed, a vacuum force is formed, which is then able to take up any liquids or fluids.
Once the material has been fully suctioned, the vacuum pump is shut off to stop the suction process and the waste is transported to a designated disposal site, treatment facility, or another location for proper disposal or processing.
At the disposal site the vacuum tanker discharges the collected waste safely.
Available Tankers
Cap Combi 2200-gallon combination tanker with ½" side jetting hose and 1/14" jetting hose.
Whale 4000-gallon suction tanker with wash down.
Rioned 450-gallon combination tanker.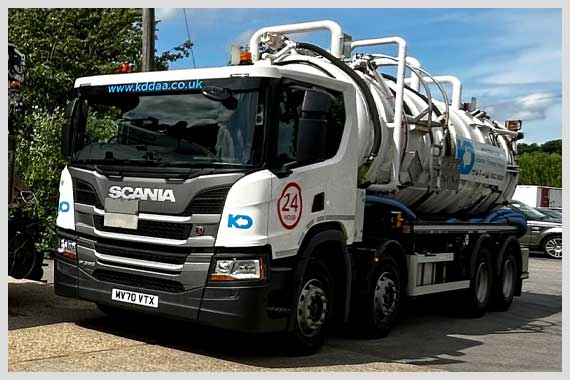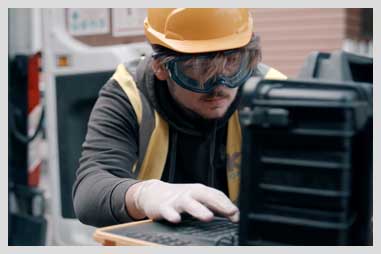 Our tankers have the ability to remove and transport all liquid waste produce (including hazardous material) from drains, pits and ditches to name a few.
We use 7.5t RioCom jetvac units due to its ability to easily manoeuvre in urban areas.
They are fitted with high-capacity hose reels and powerful vacuum suction.
They are also fitted with the latest and best technology to gather any data on the vehicle's performance and act as a pre-warning for preventative action.
Rioned's emissions-compliant tanker and trailer units are perfectly suited for all kinds of high-pressure and suction cleaning work in small and hard-to-reach spaces, such as narrow city streets and parking garages.
The compact unit provide high-capacity pump and vacuum performance comparable to larger tankers and include an extensive range of features to help optimise operations and improve operator safety.
Rioned's jetvac tankers and suction units comply with all European standards and are ideal for busy city centres and areas where strict emissions regulations are in operation.
Our tanker units are built on a Euro-6 vehicle chassis and operates using PTO (Power Take-off) from the vehicle engine to drive the high-performance jetting and vacuum pumps.
This ensures that the unit is extremely fuel efficient and safe for operation in LEZ and ULEZ zones across some of the UK's largest cities, including London.
Our Rioned lorry can jet at 2200psi @22gpm up to 650mm pipe works holding 1000 litres of clean water.
This lorry has 1800gpm suction capacity up to 2000 litres of wastewater.
Regular cleaning and maintenance are essential to keep the vacuum tanker in optimal working condition.
This includes cleaning the tank interior and ensuring that all components, such as hoses and filters, are functioning correctly.
We work hard to meet all of your drainage requirements in the most cost-efficient way feasible, whilst measuring and tracking the suction and deep lifting process in real-time.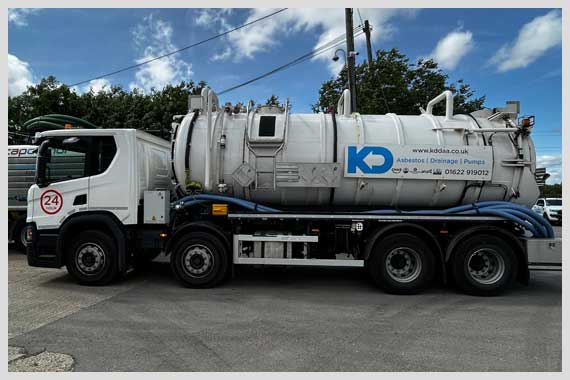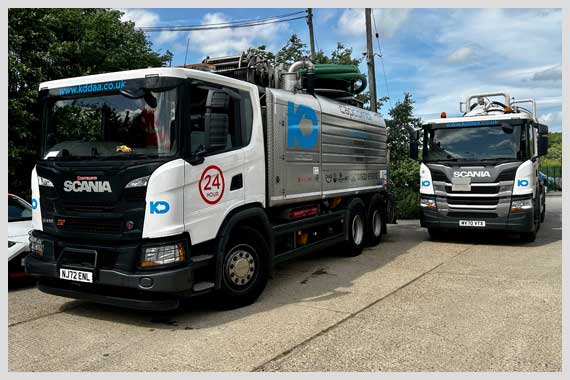 Vacuum Tankers vs Combination Tankers
A vacuum tanker and a combination tanker are both types of specialised vehicles used for transporting liquids and waste, but they have different functions and features.
A vacuum tanker uses a vacuum pump to suck up liquids, sludges, and non-hazardous waste material. Whilst a combination tanker also has this function, it also has a jetting system used for cleaning purposes.
Find out more about our combination tanker service on our web pages.
Why Correct Waste Removal is Important
The correct waste removal when using vacuum tankers is essential for many reasons including:
Environmental Protection
We take environmental and corporate social responsibility seriously. Proper waste removal ensures that materials are safely transported and disposed of, reducing the risk of harm to the environment.
Public Health & Safety
Vacuum tankers often handle sewage, industrial waste, and other potentially harmful substances. If waste is not correctly removed and disposed of, it can pose health risks.
Regulatory Compliance
The UK has strict regulations and guidelines for waste management and disposal. Compliance with these regulations is essential to avoid legal penalties, fines, or shutdowns of operations.
Accident & Spillage Prevention
Vacuum tankers operating with improper waste removal practices can lead to accidents, such as spills on roads or in public areas, therefore it's vital that this is disposed of safely.
Why KD Drainage?
Our vacuum tankers can remove all unwanted sewage and waste material including sewage, gully waste, fat, grease, sludge, and residue from pump stations.
Alongside this, we have the capability to remove animal and livestock waste as well as liquid faeces, contaminated liquid from construction sites, water in ponds, pits, and ditches, and mass transfer liquid waste removal to disposal sites.
We offer full maintenance programmes and contracts, so you can ensure that your drains and sewers remain clear all year.
If you would like to enquire about our services further, or establish a full maintenance programme, contact our team today on 01622 919012 or email info@kddaa.co.uk