Drainage or Plumbing issue?
No problem. Our expert team will get it fixed, fast!
Drain Repairs
Cracked or Broken Drain?
Our drainage engineers have specialist experience throughout all industries including domestic, commercial, and industrial and can tackle any drainage repair.
We take pride in our state-of-the-art equipment and expertise in all aspects of drainage.
That's why we offer a 2 hour response time and emergency callouts.
With customer testimonials that describe us as "very professional", "polite" and with work carried out to "an excellent standard", it's a no brainer - call us today!
For more information about drain repairs, call us on 01622 919012.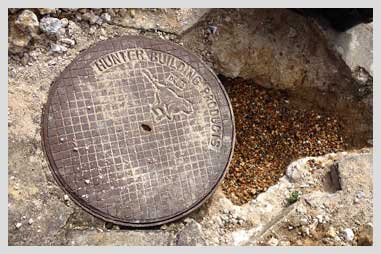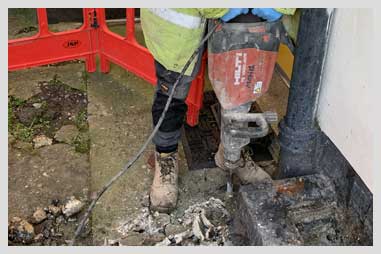 KD Drainage
CCTV Inspection
Pipe Descaling
All Work Guaranteed
24/7 Emergency Response
No Call-Out Fee
20+ Years Experience
Fully Equipped Vehicles
2 Hour Response Time
Trained Professionals
Friendly, Reliable Service
Safety First
Checkatrade Approved
What Cause Broken Drains?
Sometimes, hard blockages in your drainpipes can put pressure on the pipe, causing it to snap or burst.
Tree roots can also become lodged in your drain and cause damage to the pipework, whether this is a small crack or unstable joint.
Older pipes are susceptible to corrosion and can be become damaged over time.
Drains can also need repairing due to accidental damage when digging.
Whether it's a blockage or a leak, KD Drainage can find the cause of any issue and carry out remedial work at an affordable price.
Whilst it may be tempting to put off the repairs to a damaged drain, this can often cause long-term damage, so it is vital that you get this fixed as soon as possible.
We recommend that you get your drains checked every two years to prevent any extreme damage, and can set up a domestic maintenance contract to help with this!
We can repair any drain using the following methods:
Drain patching & LSR
Drain Excavation & Replacement
Drain Lining
Why KD Drainage?
First Time Success
We ensure that the job is resolved correctly the first-time round to avoid the frustration and costs of something going wrong again.
Professional Equipment
Ee use the best equipment to carry out all drain repairs, ensuring the job is carried out to the best standard.
State of the Art CCTV
We use CCTV cameras that allow us to monitor your drain repair in close detail.
We will then provide you with a comprehensive report on the strength of your drainage system and rectify any issues that are appear.
Efficient
Our drain repair methods ensure that the work being carried out is done so with minimal disruption and cost.
Our Services
We offer the following services throughout London and Kent using no-dig technology:
Cracked Drain Repair
Collapsed Drain Repair
Driveway Drain Repair
Drain Lining Repair
Localised Structure Repair
Commercial Drain Repair
Repair Holes in Drainpipe or Lining
Soil Vent Pipe Repairs
Manhole Repairs
Gully Repairs
We can also repair a range of pump systems such as pump chambers and grease traps.
With over 20 years of experience, KD Drainage have established themselves as one of the most trusted drainage companies in the region. Our trench-less methods offer you a fast solution to your drainage repair to keep your property intact.
For more information about our drain repair service, please call us on 01622 919012.
Our Methods
Before carrying out any method to repair your drain, we are skilfully positioned to first diagnose the problem using advanced CCTV cameras.
We will investigate the best access point to the damaged pipework and assess the extent of the remedial work.
We will precisely locate the damage to establish the most suitable method to fix the drain.
LSR
Where traditional drain excavation is difficult, Localised Structure Repair (LSR), sometimes known as drain patching, can be applied.
This is where a certain area of the drain is relined, rather than the entire pipe, removing the need for expensive and time-consuming excavations.
It tends to be used in areas where traditional drain excavation is difficult or is awkward to get to.
LSR is used for smaller cracks and breaks in pipework where a full structural relining job may not be necessary.
It is a method of rehabilitating blistered pitch fibre or crushed pipework.
Remedial work can include re-forming the pipe if necessary and then installing the patch liner.
We tend to work with pipework with a diameter of 100mm to 450mm and a length of 1 metre.
If the damaged pipework has a wider diameter and longer length than this, you may want to consider drain relining.
Drain Excavation
Excavating a drain is the process of physically digging a hole that leads to the pipework that needs to be repaired.
At KD Drainage, we understand that this is often the least desirable option to our customers.
That's why we will try to avoid excavating your groundwork as much as possible and will choose less invasive and costly methods such as LSR or relining where feasible.
We understand the importance of maintaining the appearance of your property, however, some instances require a more extensive drain repair.
For example, a stubborn major root infestation, ground movement or structural damage.
Drain Relining
Drain relining is the process of attaching a new drain lining to the inside of an existing pipe.
This forms a protective coating that shields the pipe against cracks and other potential damage.
Drain relining is a cost-effective and no-mess alternative to traditional drain repairs.
Our non-intrusive methods will ensure your drains are back to perfect working condition in no time and will remain free flowing for years to come.
First, we remove and clean any blockages from the pipe.
A flexible liner impregnated with resin is pushed through the drain, whilst an airbag is also pushed through to mould the resin to the pipe.
The liner is heated, and once cooled will mould exactly to the sides of the original pipe.
Once the airbag is removed, it leaves behind a smooth new pipe inside the original.
This method avoids the major upheaval and logistical nightmare of excavating and replacing pipes.
As we use only the highest quality materials, drain relining and LSR are guaranteed to last 50 years.
Cost to Repair a Drain
The cost of a drain repair will depend on the amount of work that is carried out.
However, we are always honest about our costs and hourly rates.
With no hidden fees, we will give a fixed price before any work is carried out so you know exactly how much you will be spending.
Contact Us Today
We tailor our solutions to your meet your needs to the best of our ability.
We prioritise our customers and promise to leave your property just as we found it.
We provide cost-effective, professional drainage solutions to domestic and commercial customers throughout the region and are equipped to deal with any drainage emergency.
Our professional, skilled engineers work on a range of commercial sites including schools, restaurants, universities, bars, hotels, hospital, cafes, cinemas, shopping centres, residential homes and more.
At KD Drainage, we also have the capabilities and equipment to move any type of drain in agricultural properties.
We are committed to helping our customers any time of day and offer our services 24/7 with out-of-hours emergency callouts.
KD Drainage has a proven track record of excellence and provide our customers with the best customer service possible throughout all our services.
For an informal, friendly chat about your options when repairing your broken drain, call the number one drainage experts in Kent and London today and speak to one of our specialists directly.
For a FREE quotation on our gully services contact us on 01622 919012 or email info@kddaa.co.uk.