Drainage or Plumbing issue?
No problem. Our expert team will get it fixed, fast!
Soakaway Installation
Soakaway Repairs & Replacement Across Kent & London
Call KD Drainage today and find out why we are one of the highest rated companies for Soakaway installations, repairs and maintenance services throughout London and Kent.
We pride ourselves on our strong reputation for all our plumbing and drainage services and are the obvious choice for anyone searching for a team of drainage experts.
A soakaway helps to improve the drainage of soil that is waterlogged, through providing a hole in the ground that creates a space for water to travel into.
If your guttering system is not maintained or inspected at regular intervals, your soakaway can become blocked, prohibiting any water from flowing away from your property and its foundations.
At KD Drainage, we are specialists in the installation, inspection, repair, and replacement of various soakaway models. With over 20 years of experience, we have established ourselves as a leading installer of all pump and soakaway types, so you are guaranteed to be in safe hands! Our friendly and experienced team can help you remove unwanted water from your premises.
KD Drainage offer a full range of soakaway services throughout the South East. We offer a full and comprehensive soakaway installation and maintenance plan for both domestic households and commercial businesses.
Whether you need to replace an existing soakaway, need a new soakaway installed, or require our specialist advice on repairs and maintenance, we have experienced engineers covering Kent, London, and surrounding areas.
If you have an enquiry about any of our soakaway services, call us today on 01622 919012.
Our Services
Site Inspection & Consultation
Soakaway Installation & Maintenance
Soakaway Design
Soakaway Repairs
Soakaway Replacement
Groundwork
All Works Guaranteed
No Hidden Fees
20+ Years Experience
What is a Soakaway?
A soakaway provides surface water drainage from a property's guttering to prevent flooding and directs the flow of water into the surrounding soil.
Since soil absorbs water, the earth surrounding your building can become saturated after heavy rain.
Soakaways are holes dug into the earth and covered over to prohibit the surrounding earth from becoming waterlogged in heavy rainfall. Soakaways are often located in open spaces such as gardens.
Often soakaways are installed using soakaway crates. These are water storage unit that help to disperse water into the earth, rather than build up. These typically come flat packed and are clipped together on site by one of our specialist engineers. Soakaway crates replaced traditional soakaway installation methods that used gravel pits.
Whilst traditional soakaways were filled with gravel and stone, over time sediment, small rocks, and soil would wash down in between the stones and fill the gaps, compromising its effectiveness.
Soakaways typically need to be installed on properties, both domestic and commercial, which suffer from minor flooding, heavy rainfall, or waterlogged soil.
Soakaways are also an integral part of a Septic Tank. Find out more about our Septic Tank services.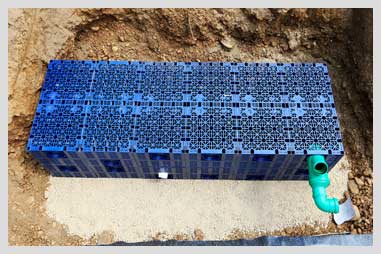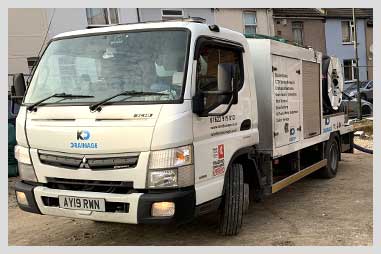 If you're suffering from minor regular flooding or waterlogging, KD Drainage can support your household or commercial business by installing high-quality soakaways, keeping you safe from long-term damage.
The installation process can be accelerated by installing drainage pipes from your property to the soakaway, to allow excess water to flow directly into the soakaway and the surrounding soil. This process requires no chemical processing and is simply a method of transporting water from one place to another to avoid flooding.
For advice on the most appropriate soakaway to install, call KD Drainage today on 01622 919012 to speak to one of our friendly, specialist engineers directly. Standing water is most commonly removed from:
Paths and patios
Flowerbeds
Frequently Asked Questions
1How far away does a soakaway need to be installed from my house?
A soakaway must be installed a minimum of 5 meters from your household or building. Ultimately, this is to ensure you do not undermine the structural integrity of the foundations, ensuring the installation process is as safe as possible. When installing a soakaway, various factors must be considered including: the proximity to the household or building, the soil type, the surrounding area, and the weight it will need to withstand.
2Why do I need a soakaway installed?
Soakaways help remove standing water and eliminate the flooding that can lead to long-term damage to your property, whether this is a household or business, such as damage to the foundations. Not only is this costly to repair, but it can also warp the foundations and make them unstable as the earth around it begins to shift.
3Are there any limitations to installing a soakaway in my household or commercial business?
Soakaways can only be installed in certain types of soil. They cannot be built on clay-based or heavy soil as the water will collect in the hole and build-up on the property, instead of soaking back into the soil. If your household or business is built on this type of soil, a soakaway isn't the right option for you.
4How big of a soakaway do I need installed?
The size of the soakaway will be determined by a percolation test. This is when a single excavation, or multiple excavations are filled to a certain level with water. The speed in which the water drains away is then timed, giving a 'VP rating'. From these results, Kent Drainage can specify the required size of the soakaway.
Soakaway Repairs
Soakaway repairs are defined by hard and soft blockages. A soft blockage is caused by an item flushed down the toilet.
With soft blockages, our engineers use high pressure washers, forcing the blockage out. If the soakaway filter is blocked, we often repair this by rinsing the blockage. Our specialists locate the filter and clear this in no time!
A soakaway job is to collect surface water from gutters and pipes and transport this back to the ground. s a result, they often become blocked with silt that builds up over time, causing flooding and excess water. That's why soakaways need maintaining regularly to carry out necessary repair work.
Tree root damage where roots restrict water flow is another common issue When this happens, the pipework can become damaged if the roots penetrate the pipes.
In this instance, the roots need to be removed and the damaged pipework replaced. Our engineers will expertly locate the affected area, cut away the roots, assess the damage and quote to fix the problem.
Our engineers will try their hardest to clear the blockage and give you the most cost-efficient solution. We offer a full soakaway cleaning service using high pressure jetting equipment to wash any blockages from the pipes leading to the soakaway.
In half of the cases, this resolves any blockage. However, this does not guarantee a long-term fix, and sometimes the damage to a soakaway is irreversible.
Soakaway Replacement
If the soakaway is permanently blocked, this will need replacement.
At KD Drainage, we are experts in the replacements of soakaways, so contact our friendly, specialist team today!
If you own a septic tank, and this has a fault or becomes damaged, this can cause a 'hard blockage' where the solid waste flows straight into the soakaway, leading to a failure.
How much your replacement will cost depends on the cause of the failure. However, our engineers offer a specialist inspection, and can give you the most cost-efficient quote possible.
If your soakaway cannot be unblocked, the only solution to this would be to excavate the site and install a new soakaway.
If your soakaway has previously blocked, this sometimes compromises its efficiency, and it may not work as effectively as before.
In this case, our engineers may advise you to have this replaced and will either excavate a new soakaway or re-excavate the existing one.
With over 20 years of experience in the drainage industry, our engineers are experts in excavating, replacing, and clearing soakaways.
The soakaways we install are all multifunctional and adaptable and can be used for commercial and domestic customers, and even have agricultural applications.
Contact KD Drainage
At KD Drainage, we have dealt with soakaway installations for years. Our experienced team can advise you on the best route possible to help with all drainage needs and can install soakaways of all sizes. We prioritise our customers and their needs and promise to leave your property just as we found it.
Benefits to choosing KD Drainage to install your soakaway:
No call out charge
24/7 emergency callouts
Trained professionals
Customer satisfaction guaranteed
Friendly & reliable service
Safety first
Checkatrade approved
Competitive rates