Drainage or Plumbing issue?
No problem. Our expert team will get it fixed, fast!
Moving Drains
Professional Drain Relocation Service
At KD Drainage, we are specialists in all aspects of drainage, and offer our services throughout London and Kent.
With over 20 years of experience, we have established ourselves as a leading installer of all pump types and have the capabilities to tackle any drainage problem!
KD Drainage offer a full range of services including CCTV surveys, drainage clearances and drainage build-over surveys for both commercial and domestic customers. At KD Drainage, you can count on us to provide affordable, professional solutions to your drainage problems!
For help with moving drains, call us on 01622 919012 now.
Our Services
Drain Installation
Drain Repairs & Maintenance
All Works Guaranteed
No Hidden Fees
20+ Years Experience
Fully Equipped Vehicles
Why Would I Need to Move a Drain?
When extending your property, in many cases if you cannot extend over your private drain, this will have to be moved.
Whether you are adding a new kitchen or conservatory, these external drains must be considered, especially if you can't build over them.
Such a complicated task requires planning and should be carried out by a specialist drainage company such as KD Drainage.
We will inspect your property and give you strategic advice on the best options available to you before offering you a cost-efficient quote.
As your drain is part of a complicated underground drainage network, it is important that you do not attempt to do this yourself, to avoid any damage to the drainage system.
The length of time it will take to move your drain, and the complexity of this is dependent on the type of drain located outside of your property, and where this is located.
There are two types of drains to be aware of - foul drains (carries household waste), and surface water drains (carries rainwater).
Typically, these are built separately, however sometimes these can be combined.
When moving your drain, it may be useful to obtain a plan of your house.
This will tell you more about the drainage system underground and help decide a location to move your drain to.
This drainage plan can sometimes be retrieved from your local council.
You may also want to hire a surveyor to ensure that you have the latest information about your drainage system and are aware of what drain you have.
This is important when seeking permission to move your drain later down the line.
It is vital that you are using the most up-to-date drainage plan possible.
This helps you to understand your underground drainage system in case this has changed since the initial plans were created.
As of 2011, when building an extension, your local water authority will insist that you get a pre-build CCTV survey carried out before any work takes place as well as when the work has been completed.
This is so the local water authority can ensure that no damage has taken place during the works.
They can also then access the location and conditions of the sewage pipes located near any planned building works.
Benefits of a CCTV Survey
KD Drainage use state-of-the art equipment to map out your drainage system and detect any issues such as cracks in the pipework.
A CCTV survey will provide you with the peace of mind that your drainage system is fully flowing.
A build-over CCTV survey will provide you with all the information you need to carry out an extension such as the condition of your pipes and the size and depth of the drainage system.
If the proposed building works is planned to be within 3 metres of a public sewer or is due to be built over a public sewer, you will need consent from the local water authority.
If your drainage pipes have a diameter of 150mm or less, you will most likely receive automatic approval by the local water authorities.
However, you will have to submit a self-declaration form which could come with an application fee and can take up to two weeks to be approved.
Do I Need Permission to Move a Drain?
In most cases, you will need permission from your local water authority to move your drain.
This process is governed by UK Building Regulations, particularly if you need to move your drain within 3 metres of a public sewer or drainage system.
As mentioned above, it is important to find out what type of drain you have.
For example, whether this is a private drain or whether this is connected to any other properties such as your neighbours.
Once applying to the local water authority, you may receive back some restrictions on the type of work that can be done.
In these circumstances, you will have to adhere to any agreements made between yourself and the water authority.
If you need advice on this, call our reliable team today for a chat and speak directly to one of our drainage specialists.
When moving your drain, our engineers at KD Drainage will support you throughout this process.
It is also important to note that your local water authority may charge you an application fee.
This usually depends on the size and diameter of the sewer pipe you are moving.
Public drains are maintained by a local water authority.
Often, if you need to build within 5 metres of a pipe over 300mm in diameter, or within 3 metres of a smaller pipe, you need to apply for permission to build here.
If the pipes near your house are 100mm or 150mm in their diameter, you can often automatically submit the 'application to build over a public sewer'.
For this, you will need CCTV survey of the state of the pipework, carried out by a specialist such as KD Drainage.
When applying, your local water authority will require information on multiple aspects of the sewage system including the size and depth of the pipe.
Factors When Applying for Build-Over Approval
Water authorities do not often approve a build-over agreement for a detached building such as an annexe or garage. Instead, these drains will need to be diverted which requires a separate application to divert the drain.
When moving a drain, the surrounding construction cannot cover more than 6 metres of the drainage system, to prevent inaccessibility.
The layout of your underground drainage system must also be kept in mind when moving your drain.
When applying to move a drain you should always plan early and ensure you have all the necessary documents and information ready as this can have an impact on your extension approval.
Factors influencing the costs of moving a drain include the size of the drain and the distance it needs to be moved.
It can cost between £1000 and £8000 to move your drain, depending on the size and complexity of the work.
Costs can incur from the initial CCTV survey to the different materials needed for the job, such as the installation of new pipes.
Further costs can wrack up from the application fees to your local water authority and the fee for your work to be approved and signed off.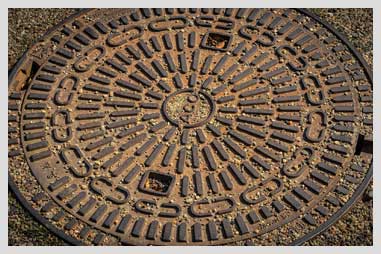 Costs will also be higher if your drain needs to be moved from the water mains.
In conclusion, the cost of moving your drain will depend on multiple factors from application and approval fees, CCTV surveys, materials, and labour costs.
For more information on this, chat with one of our engineers and call us today on 01622 919012.
Process of Moving a Drain