Got a Blocked Septic Tank?
No problem. Our experts will get it emptied, fast!
Kent Septic Tank Emptying
Septic Tank Specialists Across Kent
Whether your septic tank is blocked and overflowing, or you just need a routine septic tank emptying, count on the KD Drainage team to get the job done quickly and efficiently.
With over 20 years of experience, we provide an unrivalled range of septic tank services including full installations, repairs and maintenance, cleaning and emptying.
We can empty all types of foul drainage systems including septic tanks at properties without a connection to the main sewage system.
If you have a septic tank emptying enquiry, call us on 01622 919012.
Our Services
Septic Tank Emptying
Septic Tank Installation
Septic Tank Inspections
Septic Tank Repairs
All Works Guaranteed
No Hidden Fees
20+ Years Experience
What is a Septic Tank?
A septic tank is a sedimentation container installed underground used for wastewater treatment through the process of biological decomposition and drainage.
A septic tank is usually installed at properties with no direct connection to the mains sewage system.
Via natural processes, their purpose is to treat household wastewater from toilets, bathrooms, kitchens, drains and laundry rooms.
Septic tank systems are designed with simplicity in mind. A watertight compartmentalised fibre glass, plastic or concrete container is installed underground, which is connected directly to the household plumbing to which all wastewater flows.
Predominantly found in the rural areas of Kent, they work simply by collecting the excrement and wastewater into one big underground tank, usually installed at least 50 metres away from the home.
Most septic tanks are made up of two chambers and one tank which receives all the wastewater from an inlet pipe.
Over time, the tank will fill up to the point where it needs to be routinely emptied by a specialist drainage company, to prevent raw sewage from escaping and flooding nearby grounds.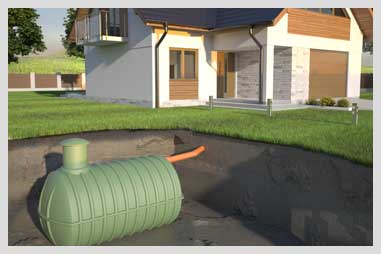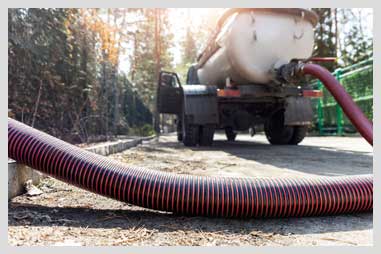 How Often Does My Septic Tank Need Emptying?
Depending on the size of your property in Kent, you should ideally have the sludge from your septic tank removed every 6 to 12 months.
However, emptying should be done at the correct intervals. The natural bacteria found in septic tanks is crucial to the biological decomposition process.
So homeowners should avoid using biological cleaning products and bleach too often. You should also avoid pouring hazardous waste down drains and into toilets, as this can kill the bacteria which is essential to the ecosystem of the septic tank.
Scheduled emptying of your septic tank helps to prevent overflows, blockages, and potential damage to the system and surrounding environment. KD Drainage are specialists in septic tank emptying and will ensure problems like these do not arise.
With over 20 years in business, we take full responsibility to ensure all health, safety and environmental regulations are adhered to.
Using specialist tank and vacuum equipment, we remove all unwanted sludge and scum from the septic tank. All waste material is then taken away and disposed of at a local sewage treatment plant.
Our team is always on hand to guide you on how to correctly maintain your septic tank to ensure a lifetime of trouble free use.
Our teams operate all across the county of Kent, plus the whole of Greater London, Essex, Surrey, East Sussex and West Sussex.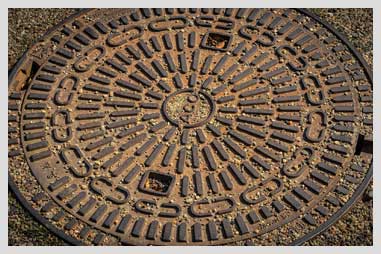 Why Empty Your Septic Tank?
If you fail to empty your septic tank regularly, you could be headed for major problems.
As a result, raw sewage may leak for the system, and a large pool of wastewater could settle on the drainage field near your septic tank.
The surrounding grounds could become waterlogged, with flowers, plants and shrubs starting to grow much faster than normal.
If your sewage discharges into a watercourse, there may be overflowing sludge or scum on the water. Solids may enter the soak-away, leading to soak-away damage.
Inside your home, you could develop slow draining sinks, bath tubs and toilets, with very unpleasant smells coming into the house.
All in all, it could be disastrous if you allow your septic tank to overfill.
By regularly emptying your tank, you will avoid expensive repairs to rectify some of the issues highlighted above.
However, if any issues arise, KD Drainage is here to help you with any problems arising due to a septic tank incident occurring.
Our services include:
Septic Tank Desludging
Septic Tank Emptying
Septic Tank High-Pressure Jetting
Septic Tank CCTV Surveys
Septic Tank Inspections
After collecting the sludge and wastewater from your septic tank, we offer high-pressure water jetting services to ensure your tank is left in a clean condition. We also offer septic tank CCTV surveys and a service to pinpoint any issues or problems that may need remedial attention.
A service includes a full clean, jet washing and advice on septic tank repairs, and can be carried out alongside septic tank emptying services.
After the CCTV survey, service or septic tank emptying procedure has been carried out, KD Drainage will offer a solution to any problems at a competitive rate.
KD Drainage are a reliable licensed waste carrier with unbeatable prices and emergency callouts.
In the drainage field, naturally occurring aerobic bacteria (also known as waste-degrading bacteria) break down any remaining waste, allowing the water to be naturally replenished.
A septic tank is a much more advanced cesspit. Similar to a sewage treatment plant, a septic tank is used to treat wastewater and sewage through biological decomposition.
Septic tanks can be installed in households, as well as installed in commercial buildings to treat wastewater from kitchens and bathrooms.
Put simply, a septic tank is a rectangular watertight container that contains two compartments, separated by a wall, and is installed underground.
Septic tanks are typically installed in rural areas.
This is because in cities and towns wastewater is usually transported and dealt with by a sewage system that is maintained by a local water company.
A septic tank is made up of two chambers.
The first chamber is typically known as the 'settling chamber' and receives wastewater from an inlet pipe. In this chamber, lighter solids, oils, and grease (also known as scum) float to the top of the water.
Sewage waste is drawn to the bottom where this is broken down by natural bacteria.
The remaining liquid flows into the second chamber, and then out of the tank into a drainage field.
The solid waste left at the bottom of the septic tank needs to be removed periodically as part of general maintenance by a registered waste carrier, such as KD Drainage.
Both septic tanks and cesspits collect wastewater and sewage and hold this.
With a cesspit, there is no processing or treatment to the sewage.
However, septic tanks use a simple treatment process that allows the water to leave the tank.
In contrast, cesspits cannot filter any waste as they are lined with cement and stone, and so can contaminate the surroundings if not emptied regularly.
There are no outlets in a cesspit, meaning the waste remains in the tank, however there is piping to release the gases that build up over time.
Cesspits require emptying more often than septic tanks and are frequently seen as a temporary sewage system.
In some instances, cesspits can be fitted with an alarm that notifies the owner when the tank is at its maximum capacity and needs to be emptied.
However, this must be done by professionals, such as our engineers, as the cesspit will release hazardous gases when the lid is lifted.
We provide professional, cost-effective wastewater solutions to domestic and commercial customers throughout Kent.
With over 20 years of experience, our team is equipped to deal with any drainage emergency, using state-of-the-art equipment.
Our professional, skilled engineers work on a range of commercial sites including schools, restaurants, universities, bars, hotels, hospital, cafes, cinemas, shopping centres, residential homes and more.
We also have the capabilities and equipment to empty any type or size of septic tank at residential, rural and agricultural properties.
We are committed to helping our customers any time of day and offer our services 24/7 with out-of-hours emergency callouts.
With no call-out charges and a two-hour response time, it's obvious why KD Drainage are one of the most trusted drainage companies throughout the south east region.
Our Coverage
Professional & reliable wastewater engineers covering the following areas:
Ashford
Broadstairs
Canterbury
Chatham
Dartford
Deal
Dover
Faversham
Folkestone
Gillingham
Gravesend
Herne Bay
Hythe
Maidstone
Margate
Medway
Minster
New Romney
Northfleet
Orpington
Ramsgate
Rochester
Sevenoaks
Sheerness
Sittingbourne
Swanley
Thanet
Tonbridge
Tunbridge Wells
Whitstable
Aveley
Basildon
Billericay
Braintree
Brentwood
Canvey Island
Chadwell St Mary
Chelmsford
Chigwell
Clacton-on-Sea
Colchester
Epping
Grays
Halstead
Harlow
Harwich
Loughton
Maldon
Rayleigh
Rochford
Saffron Walden
South Woodham Ferrers
Southend-on-Sea
Stanford-le-Hope
Tilbury
Tiptree
Waltham Abbey
Walton-on-the-Naze
Wickford
Witham
Burgess Hill
Bexhill-on-Sea
Bognor Regis
Brighton
Chichester
Crawley
Crowborough
East Grinstead
Eastbourne
Hailsham
Hastings
Haywards Heath
Horsham
Hurstpierpoint
Lewes
Littlehampton
Newhaven
Peacehaven
Polegate
Portslade-by-Sea
Saltdean
Seaford
Selsey
Shoreham-by-Sea
Southwick
St Leonards
Uckfield
Westergate
Woodingdean
Worthing
Addlestone
Ashtead
Banstead
Camberley
Caterham
Cobham
Cranleigh
Dorking
Egham
Epsom
Esher
Ewell
Farnham
Frimley
Godalming
Guildford
Haslemere
Horley
Kingston upon Thames
Leatherhead
Oxted
Redhill
Reigate
Richmond
Staines
Walton-on-Thames
Warlingham
Weybridge
Windlesham
Wokingham
We also empty septic tanks across the entire city of London
Our team of wastewater engineers can be with you in 2 hours or less.