3 Signs of a Blocked Drain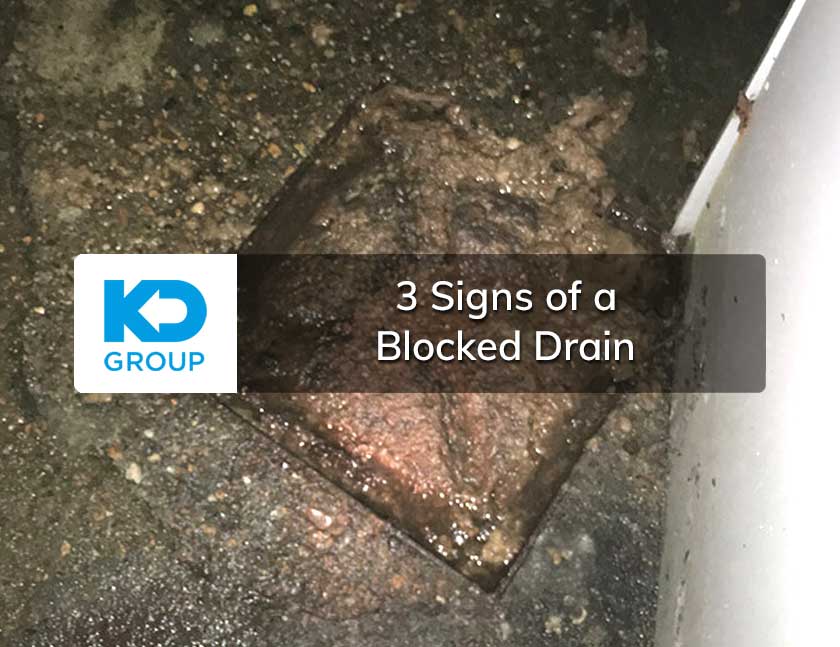 Our drainage engineers at Kent Drainage were called to a commercial client's property to investigate the cause of frequent blockages, and CCTV drainage surveying equipment was used to assess the drainage infrastructure.
As a result, our drainage specialists identified a domestic rod, lodged in the drainage pipework.
The pipework was traced through the building of our customer and the rod was removed to restore the flow in the drainage system.
Interested in a CCTV Drain Survey?
A CCTV drainage survey carried out by Kent Drainage gives you a detailed inspection of the inside of your drainage infrastructure.
We use Hi-tech CCTV surveying equipment, allowing our drainage engineers to view your pipework using a live feedback.
This is followed up with an easy-to-understand report carried out using high-quality reporting software.
CCTV surveys typically identify blockages, damage such as breaks or cracks in pipework, collapsed or fractured pipes, corrosion, tree root encroachment, animal infestations or signs of poorly installed pipework.
Kent Drainage also offer homebuyer CCTV drainage surveys.
These are increasingly recognised as being important by building surveyors.
As a homebuyer, you will receive a full drainage survey carried out by a specialist drainage engineer. If you are interested in our homebuyer CCTV survey service, please visit 'Home Buyers Drainage Surveys' on our website.
For more information on CCTV drainage surveys, please read our blog post or visit our website.
At Kent Drainage, we offer a wide range of drainage services throughout the South East to both domestic and commercial clients including: schools, colleges, universities, residential care homes, agricultural properties, cafes, bars, restaurants, bakeries, hotels, shops, housing associations, letting agencies and more!
You can view the amazing clients that we frequently work with on our website.
We are here to help you 24/7, 365 days a year- with Kent Drainage you can rest assured that you are in safe hands.
We offer a wide range of services including:
Blocked Drains
CCTV Drainage Surveys
Drain Structural Relining
Drain Localised Structure Repair
Pipework Renewal
Water Main Repairs
Preventative Planned Maintenance Contracts
Home Buyers Drainage Survey
Root Removal
If you experience a blocked drain, frequent blockages, foul smells or any other signs of a blocked drainage system or pipework infrastructure, waste no time in calling us today on 01622 919012 or email info@kentdrainage.co.uk.
Warning Signs of a Blocked Drain
How do you know if you have a blocked drain? Sometimes the signs of a blocked drain can be obvious, for example, you may see an overflow of sewage from an external drain, or, signs may be less noticeable.
If only one fixture is experiencing blockage issues for example a sink, the blockage is likely confined to that specific pipework.
For example, a blocked sink may be caused by a build-up of oil or grease. If a running tap causes the water level to rise in the toilet or vice versa, this is a key indicator that your blockage is in the main drainage infrastructure and is not specific to a certain fixture.
Either way, many signs can occur if you have a blocked drain or blocked pipework.
This blog post provides you with the key indicators including:
1. Foul Smells
One of the most obvious signs of a blocked drain, and one that our engineers at Kent Drainage are called to site for frequently, is a foul smell coming from your drainage infrastructure.
This could smell like sewage and can come from your sink, toilet, bath, shower, or any plugholes.
2. Sounds
A key indicator of a blocked drain is a gurgling sound created when water flows down any pipework such as a sink, toilet, bath or plug holes.
This tends to be a result of water trying to flow past a blockage, pushing the trapped air from around the obstruction up and through the pipework.
3. Slow Draining Water
If your drainage system is blocked, water will be unable to flow through the pipes as easily leading to the slower draining of water in your bath, sink or toilet.
This is because the blockage is preventing water from flowing through the pipes.
Sometimes, in this case, water may not be able to flow through your pipes at all, leading to a high-water level and a back-up of water.
You may also experience water coming back up out of plug holes, sink or toilet.
What to do if you have a blocked drain
If you have a blocked drain your first call of action may be to try and unblock this yourself- this can be carried out with a plunger or potentially a small drain snake.
You can read more about this in our blog post 'How to clear a blocked toilet'.
If the problem persists or gets worse, call a Kent Drainage specialist immediately. We commit to a 2-hour response time and no hidden costs.
The longer you leave a blocked drain, the worse the symptoms will get.
If you are unsure whether it is your responsibility to fix a blocked drain or wish to speak to our highly-experienced, specialist engineers at Kent Drainage for advice, waste no time in calling us on 01622 919012.
Kent Drainage work throughout the South East including London and Kent.