How to Clear a Bathtub Drain Blockage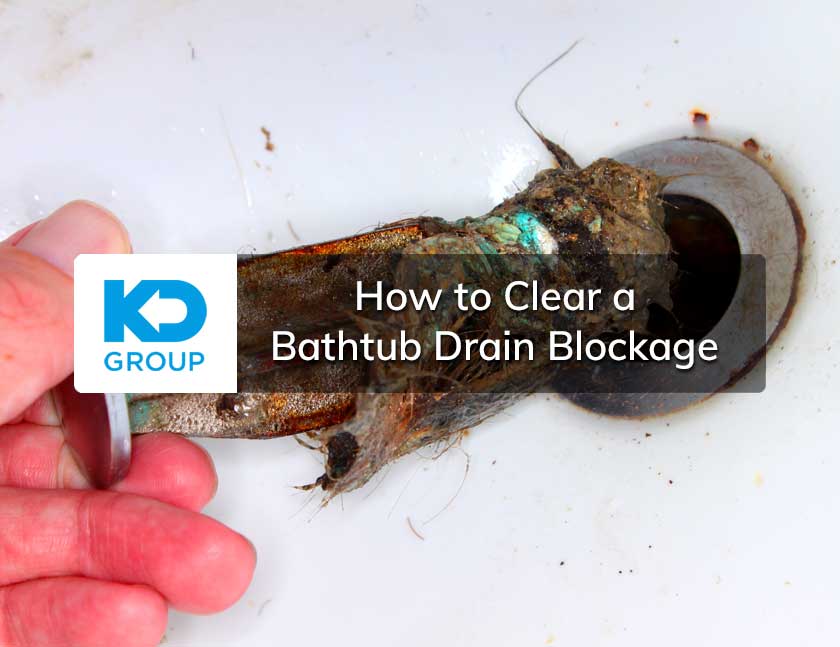 Have you noticed your bathtub draining very slowly?
There's most likely a blockage as a result of hair, soap scum, dirt and debris accumulating.
This will cause an obstruction that needs to be tackled as soon as possible.
While you may wish to try to solve this problem on your own, unblocking your drain is not always that straightforward.
Many DIY remedies are not effective enough to dissolve the obstruction, so you may need to contact a drainage professional.
If however your blockage is minor, below are some tips and tools you can use to get your bath to drain correctly.
Why Bathtub Drains Get Blocked
While you bathe, soap residue, dead skin and hair can end up going down the plughole.
Over time, the drain can get blocked as a result of such dirt and debris getting stuck inside the pipes and continuing to accumulate.
Such deposits need to be tackled before they become too problematic, as they might end up causing serious damage to the drain and pipework.
Clean Bathtub Strainers & Stoppers
Bathtub stoppers and strainers can help to reduce the dirt and hair that ends up making its way into the drain.
However it's important to clean them on a regular basis so they do their job well.
If they're too dirty, they will not serve their purpose well.
Sometimes the blockage is not too bad, and simply giving the strainer or stopper a thorough cleaning will help to remove the clog.
Push Stoppers
In the case of a push stopper you will need to remove it, often by making use of a screwdriver if it is attached with a screw.
Make sure to remove the tap before unscrewing the stopper.
Be careful to choose the right fit screwdriver to prevent any damage to the screwhead while you are trying to remove it.
Once this has been unscrewed, put it in a safe place to avoid the risk of having it fall down the drain and getting lost.
Levered Stoppers
Levered stoppers are another type of stopper, which do not comprise a screw.
These can be pulled up easily by hand.
Once the stopper has been removed you will be able to remove any tangled hairs and other residue that is causing the clog.
Some older bathtubs will have stoppers in the drain pipes.
Most of these will have a lever located on the overflow plate, and a cover over the drain.
In such a case you will first need to remove this cover, and then clean the crossbars.
Afterwards, unscrew the plate and pull out the metal linkage.
Carefully clean all the parts.
Proceed to run some water down the drain pipe to see how it flows.
When you're done, you can place everything back into place.
Make sure to readjust the linkage in case it's a bit crooked.
Drop Stoppers
Most drop stoppers generally have knobs which when lifted open up the drain.
Often, there is also a screw set right underneath the drop stopper.
Hence you will need to unscrew this to locate the blockage.
In some cases it may be wrapped around the crossbars, and so you will need to cut the wad with a utility knife and use needle-nose pliers to start pulling out the debris.
In some cases there may be a clog under the stop which is very hard to reach.
In such circumstances, you may need to use a coat hanger in order to reach it and manage to get rid of it.
Household Ingredients
There are some household ingredients that you could try using in order to unclog your bathtub drain.
Here are some examples you can use:
Baking Soda & Vinegar
Clean and remove the stopper and strainer.
Wipe away the dirt with an old cloth or some paper towels.
Then pour some boiling water down the drain.
Pour it slowly and carefully.
If the clog is not too problematic, this could already improve the situation a bit.
Follow up by mixing a cup of baking soda with a cup of vinegar.
Then pour this mixture down the drain.
Let it sit for around 20 minutes, and then pour boiling water again.
This will lead to a chemical reaction which should clear the blockage.
Afterwards run some water to check if it flows well.
If you still notice that it is draining slowly, try to repeat this process again.
Baking Soda & Salt
An alternative to the above mixture is to use baking soda with salt instead.
Start by pouring a cup of baking soda down the drain.
Follow this up with half a cup of salt.
Let it sit for several hours.
This can be done overnight.
Then in the morning, flush with two cups of boiling water.
If the drain starts to drain, continue to pour more water from the tap.
You may wish to repeat the process if you notice that there's been an improvement, but the water is still not flowing as well as it should.
Vinegar, Salt & Lemon
Another option is to use a combination of vinegar, salt and lemon.
Mix half a cup of distilled white vinegar with half a cup of lemon juice and salt.
Pour the mixture down the clogged drain.
It should start to fizz and sizzle.
This is a good sign as it means that there is a reaction and it's working.
Allow it to sit for half an hour, and then pour hot water slowly down the drain.
Salt & Boiling Water
If you do not have any vinegar to hand, you may wish to try using only salt and boiling water, as this sometimes works well too.
Morton salt or iodised salt are a good option.
Put half a cup down the drain and follow up with boiling water.
Salt is coarse and as a result it will create a scouring action, managing to scrape the debris that is lodged in the pipes and drain.
This is even more effective when it is flushed down with boiling water afterwards.
Caustic Soda
Caustic soda or lye is very corrosive.
It causes a chemical reaction when it comes into contact with dirt and other organic matter.
As a result, it can work quite well to remove drain blockages.
Caustic soda is available in powdered or liquid form from hardware stores.
In a large bucket, dilute around 750ml of caustic soda in three litres of cold water.
The mixture will start to fizz.
Carefully pour it into the drain and let it sit for half an hour.
Follow up with four litres of boiling water to flush the drain.
Check if afterwards the water flows better.
If not, try to repeat this process again.
Drain Snake
Start by removing the strainer or stopper.
Clean them as there will be dirt and gunk accumulated there.
Then, insert the drain snake into the blocked drain.
You may notice that you will hit the drain trap.
This is a curved part in the drain, and the scum causing the blockage will be located in that part.
The drain snake should help you to grab the hair and other gunk, and you can then pull it out.
Run water to clear the remaining residue, and check whether it flows better than before.
Clothes Hanger
If you do not have a drain snake, you may use a simple clothes hanger instead.
This can work well enough.
Simply insert it in the drain, until you reach the blockage.
Then, twist and turn so that you can get as much dirt as you can to stick to the hook, and move it out.
It should bring the clog with it after a few attempts.
Make sure to keep a plastic bag close by so that you can easily throw away the scum that you will be removing.
You may also wish to put on some disposable rubber gloves as this will be quite messy and potentially smelly
Plunger
A plunger can help to remove some minor blockages.
First, remove the strainer and stopper.
Cover the edges of the drain with duct tape.
Afterwards, fill the bathtub with some hot water.
Place the plunger over the drain hole, making sure you create a suction.
Then, start to push the plunger down, and pull it up. Do this repeatedly.
If this method works you will start to notice that dirt from the drain will start to emerge.
Scoop it up and continue the process to remove as much dirt and residue as you can.
When you are done, remove the duct tape and run some water to check the flow.
Chemical Drain Cleaner
You will find various chemical drain cleaners you can buy off the shelf from hardware and DIY stores.
However, since these are ultimately chemicals, be wary of them as they could cause damage to the pipes.
Most chemical drain cleaners are made from potassium hydroxide or sulfuric acid.
If you opt for a chemical drain cleaner, make sure to read the instructions fully before using.
Certain safety precautions need to be taken beforehand.
You may wish to wear protective goggles and gloves.
Also, make sure that the product is suitable for your system, as it should be intended for bathtubs.
Remove any standing water from the bathtub, and dry it out before pouring the drain cleaner in the drain.
Use the recommended amount and allow the specified time to pass before running water down the drain.
Be careful when pouring the drain cleaner to avoid any spills or splashes, especially onto exposed skin.
Wet & Dry Vacuum Cleaner
If you have one, you may wish to try using a wet and dry vacuum cleaner to clear the blockage in your drain.
This can work like a plunger, but with a higher power and a better suction.
Cover the area around the drain with towels. Keep a bucket at hand.
Remove any drain ring from the drain hole and suction it well when you insert the hose in the drain hole.
Connect the hose to the vacuum cleaner's input fitting.
Then turn it on and feed it down the drain.
If you notice a change in the sound it should indicate the vacuum is managing to suck the clog out.
When the vacuum resumes its normal noise, you should be done.
At times the clogs will stretch out and often also get stuck in the pipe, so you will need to clear it out carefully.
Conclusion
If none of the above remedies worked well enough, there is no doubt that the clog is more serious than you think.
In these situations, you need to call a drainage expert to deal with it.
Many homeowners prefer to skip home remedies altogether and leave it in the hands of a professional drain clearing company instead.
They will be able to do a more thorough job and clear the drain without any problem.
This will reduce the inconvenience that blocked drains cause, while also reducing the chances that you might damage the pipes or drain while trying to use any of the remedies.
It will also save you a lot of time and hassle.