Drainage or Plumbing issue?
No problem. Our expert team will get it fixed, fast!
Gully Cleaning
Professional Gully Cleaning & Repairs
At KD Drainage, we are specialists in all aspects of drainage, and offer our services throughout London and Kent.
With over 20 years of experience, we have established ourselves as a leading installer of all pump types and have the capabilities to tackle any drainage problem!
KD Drainage offer a full range of services including CCTV surveys, drainage clearances and drainage build-over surveys for both commercial and domestic customers. At KD Drainage, you can count on us to provide affordable, professional solutions to your drainage problems!
For help with gully cleaning, call us on 01622 919012 now.
Our Services
Drain Installation
Drain Repairs & Maintenance
All Works Guaranteed
No Hidden Fees
20+ Years Experience
Fully Equipped Vehicles
Put simply, a gully is an outside water drainpipe that is fitted with a base, an open top (often with a grid) and an outlet on one or more sides.
There are two common types of gullies: road gullies and domestic gullies.
Gullies are designed to drain surface water from areas that are likely to flood and can connect to rainwater and wastewater outlets.
Gullies are circular in shape and can range from 300mm to 1200mm in depth.
The installation of different types of gullies available can sometimes be complicated, so it is important that you call a professional drainage company to install and replace these.
Road gullies divert water from roads and motorways in areas that are susceptible to flooding due to the build-up of water.
Domestic gullies however divert a build-up of water in your gutters, driveway, or garden.
Likewise, they can also be used to discharge wastewater from inside the house such as your dishwasher, sink, washing machine, bath, or shower.
Both road gullies and domestic gullies are fitted with a grid to prohibit debris from collecting in the drain, leading to blockages.
As expected, road gullies are more hardwearing than domestic ones due to the environment that they are installed in.
A big indication of whether your gullies are blocked is if you notice them becoming flooded or slow draining.
This needs to be dealt with as soon as possible to prevent further flooding and damage in your garden, so call us today on 01622 919012.
How Do Gullies Get Blocked?
Gullies can become blocked by a range of debris.
This includes twigs, moss, stones, dirt, grit, litter, and leaves that have made their way through the trap during rainfall.
Thus, gullies may need regular maintenance to ensure they remain free flowing, particularly in the winter.
The debris causing the blockage needs to be cleared to avoid waterlogged ground, flooding, and unwanted odours.
Sometimes, tree roots can grow in your underground drainage systems, damaging the pipes or causing them to crack or hinder the flow of water.
If your gully is old, it can often become weak and begin to break down.
This can cause further issues and leading to the surrounding ground becoming waterlogged and flooded.
You can usually tell if your drain is blocked if your gullies become overflowed and begin to emit an odour.
In some instances, you may be able to clear a blocked gully yourself.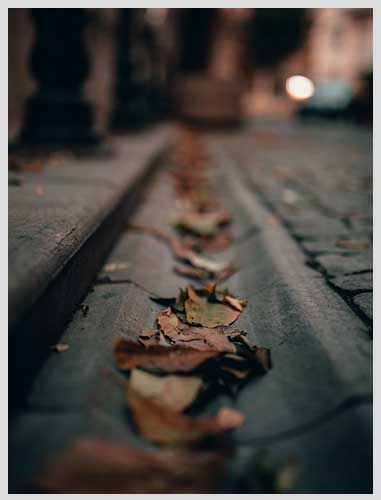 Steps to Clear Blocked Gullies
1. Ensure you have protective clothing such as rubber gloves and glasses to avoid being in contact with dirt and wastewater as much as possible.
2. Locate and lift the gully cover. This can sometimes be difficult to identify as over time your gully may have collected leaves and debris. Try and clear as much debris as you can from the trap using your hands.
3. Next you need to remove the gully trap using a screwdriver or a handle if it has one. Once you have managed to open this, try and clear any visible blockages such as leaves and twigs.
4. After this, if your water is still slow draining, you will need to use a drainage rod. These are flexible, metre-long rods that can be inserted into your drainage system to remove any blockages. Once you can feel the blockage with the rod, you should push and prod the blockage to try and break this up.
5. Before hosing down the inside of the gully to clear the pipes, you should brush away any surrounding debris so that this does not get washed in and cause more blockages. You can also flush the inside of the gully with hot water to further dislodge any blockages such as grease.
6. Finally, run your taps and make sure that your gully is draining properly before re-sealing the hole.
WARNING: when using a rod, do not twist this in an anti-clockwise motion as this can cause considerable issues. You should also not push the blockage too hard as this will push it further into the drainage system.
Clearing your blocked gully can be a complicated and messy task, so we recommend calling a drainage expert to do this for you.
If left too long, a blocked gully can lead to serious problems such as damage to your property's foundations.
Similarly, wastewater floods can contaminate the outdoor of your property, leading to an extensive back up of waste and health concerns.
Our dedicated team of engineers use state-of-the-art technology to clear any blocked gully or drain.
We use best high-pressure water jetting equipment to dislodge any stubborn blockages quickly and effectively, leading to long-lasting results.
Our engineers are fully equipped with jet washers, CCTV equipment and mechanical and electrical machines providing you nothing but the most-effective methods and expert industry knowledge to clean your blocked gully.
Over time, your gully will need to be cleared to empty any leaves, twigs, dirt, soil, and other debris that has gathered.
KD Drainage offer gully cleaning at competitive prices to ensure your gully remains free-flowing, and in its best condition.
Not only will this reduce the chances of racking up future costs to repair or replace your gully, it also removes any health and safety concerns.
Here at KD Drainage, we hold all major industry accreditations so you know your work will be carried out to the highest standards by our team of expert and friendly engineers.
When fixing your drainage issues, we guarantee a completely stress-free experience for you!
We offer our gully cleaning services across London and Kent 24/7, 365 days a year, so rest assured that if you experience ANY drainage emergency, you can count on KD Drainage to resolve the problem in a professional manner at a cost-efficient price.
We aim to solve any drainage problems and pride ourselves on our 2-hour response time, no call out charges and out-of-hours service.
Once your gully has been cleaned, there are steps that you can take to prevent this from becoming blocked again.
Firstly, you can ensure that the area around your gully is clear and free from any surrounding debris as much as possible, to reduce the chances of this being washed into your gully.
You can also remove any visible debris including leaves and twigs from the gully, to prevent the situation worsening.
At Kent Drainage, we understand that with the rain and winter weather, it can sometimes be difficult to maintain your gully yourself.
That's why we offer on-going maintenance contracts to clean your gullies in regular intervals.
We offer our maintenance contracts to both domestic and commercial customers and have the extensive drainage knowledge to clear any property of any size.
For more information on our gully maintenance contracts, call us today on 01622 919012.
London's underground drainage system is particularly complex.
Therefore, any drainage issue in London must be carried out by professionals with the technical knowledge, skills, and equipment to carry out the job effectively and to the highest quality.
At KD Drainage, we are proud of the level of our customers' satisfaction with our effective drainage solutions for both commercial and domestic customers.
KD Drainage provide a fixed price over the phone for any enquiries on cleaning gullies.
Call us today for a free quote or fill out the enquiry form on our contact page and see for yourself how our reputation precedes us!
Installing any gully type can be a complex task as they are connected to a complex network of pipes that drain the surface water away.
There are many factors to consider when installing gullies, so it's best to call in a professional and knowledgeable drainage company, such as KD Drainage.
Drain gullies are designed to have a trap that holds water at one level to prevents smells from becoming released through the drainage system.
Gullies are typically located on the discharge points of rainwater pipes, and at the base of small-bore water pipes that discharge grey wastewater from your property.
The gully covers can range from UPVC to cast-iron dependent on the load above them.
Here at KD Drainage, we install:
Rainwater Gullies
Surfacewater Gullies
Wastewater Gullies
When installing any type of gully, there are important aspects that must be adhered to:
All drainage gullies must be installed 150mm below the 'damp proof course' in your walls. A damp proof course is a barrier in your wall that is designed to prohibit any damp.
All gullies must sit on concrete to ensure the correct level is sustained.
At KD Drainage, we have highly qualified experts providing professional gully installation services for domestic and commercial customers.
Drainage installation requires expert skill and knowledge, for example, knowledge on building regulation standards and the positioning of drains.
Here at KD Drainage, all our engineers have the vital training and experience to advise you on the best solution when installing a new gully.
We will support you throughout the entire process from the initial enquiry, the installation of your gully and the final report.
We are also able to add gullies to any extension, or a re-positioned room.
KD Drainage install gullies for commercial and domestic customers throughout the Southeast, including London and Kent.