How to Find a Leaking Pipe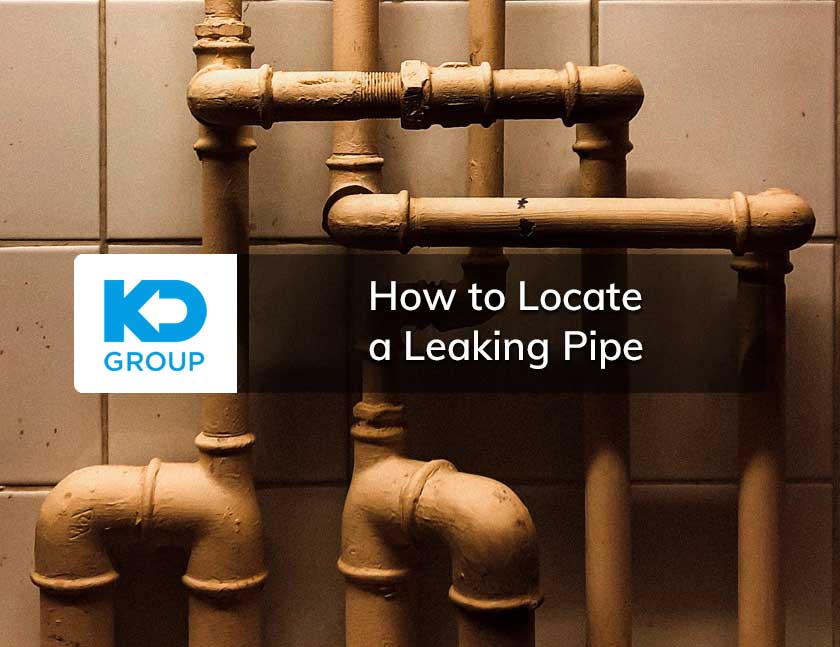 Our engineers at Kent Drainage attended our commercial customer's site to trace a leak found in student accommodation.
Kent Drainage successfully traced the leak to a soil vent pipe (SVP) behind a wall.
Access to the burst pipework had to be made through an internal wall and the leak was located.
A section of the pipe was removed, and repair work carried out, leaving the site tidy and clean.
Here at Kent Drainage, we offer our services throughout the South East including London and Kent 24/7, all year round.
We offer a wide range of services to both domestic and commercial customers including blocked drains and general blockage services, pipework renewal and maintenance, pipework repair and relining, CCTV surveys and more.
Identifying the Location of a Burst or Leaking Pipe
A leaking pipe is not only a pain, but it can also be costly to fix; this is why at Kent Drainage, we offer our customers an affordable quote to fix any burst pipe. If you believe you have a leaking pipe, waste no time in calling us today on 01622 919012 to speak to one of our drainage specialists directly. We guarantee a 2-hour response time and no hidden costs.
Upon arrival, our engineers will locate the damaged or burst pipework and carry out any remedial work necessary. However, if you wish to identify where a leaking or burst pipe is located before calling Kent Drainage, you can read some tips and advice below.
Identifying a leaking pipe behind a wall
Puddles
A common sign of any leak behind a wall is the formation of puddles of standing water or the soaking of your floor/carpet.
Changes in Texture
A leaking pipe could lead to bubbles appearing behind any wallpaper or painted wall, as well as discolouration potentially leading to crumbling or buckling.
Wall Discolouration
If a leak occurs behind your wall, you will likely see discolouration of the wall or irregular-shaped watermarks and patches.
Smells
Leaking pipes can often give off a musty or humid odour where the water has not had a chance to dry.
Sounds
Another indicator of a leaking pipe if you cannot physically see is dripping sounds. The best time to listen out for leaking water from a pipe is after using the shower, bath, sink or toilet.
Identifying a Leaking Pipe Under Floorboards
Run your hands over the floorboards to see if one part of the flooring is hotter than the rest.
If so, there may be a hot water leak.
If possible, lift your carpet to see whether there is any moisture between the carpet and the floorboard.
If so, waste no time in calling Kent Drainage today.
Again, you may be able to hear the water running from a leaking pipe; placing your ear closer to the floor and listening out for a leak or any dripping sounds can sometimes be a good indicator as to whether the leak is coming from underneath the floorboards, especially for larger leaks.
Discolouration or staining/bubbling of the floor or floor coverings are also key indicators that there may be a leak beneath your floorboards.
Identifying a Leaking Pipe in the Ceiling
Wet Ceiling
If a pipe has burst in your ceiling, an obvious indicator is any visible sign of a wet ceiling such as wet patches or watermarks.
Mould
If mould begins to grow on your ceiling this could be a sign of poor ventilation or moisture from within your ceiling.
Peeling Paint
Another key indicator of a leak coming from your ceiling is peeling paintwork or wallpaper.
Moisture on Walls
Whilst moisture on walls can be a sign of a leaking or burst pipe located behind a wall, a leak may also have appeared in your roof.
For clarification, you should seek advice directly from Kent Drainage.
Leaks or burst pipes are most likely to occur in places in your house such as in bathrooms near the sink, shower, toilet, or bath or near large household appliances such as dishwashers or washing machines.
Another key indicator of a leak anywhere in your home is a sudden increase in water bills.
If you are unsure of the location of a burst pipe, be sure to call Kent Drainage.
We will send one of our specialist engineers round to locate the leak or burst pipe.
At Kent Drainage we are here to support all of our clients throughout London and Kent 24/7, so if you suffer an emergency such as a leaking pipe, or burst pipework waste no time in calling our emergency number 07392 184307.
You can also email info@kentdrainage.co.uk for a free quote or call our general enquiries line 01622 919012 for direct advice from our specialist engineers.