How to Kill Tree Roots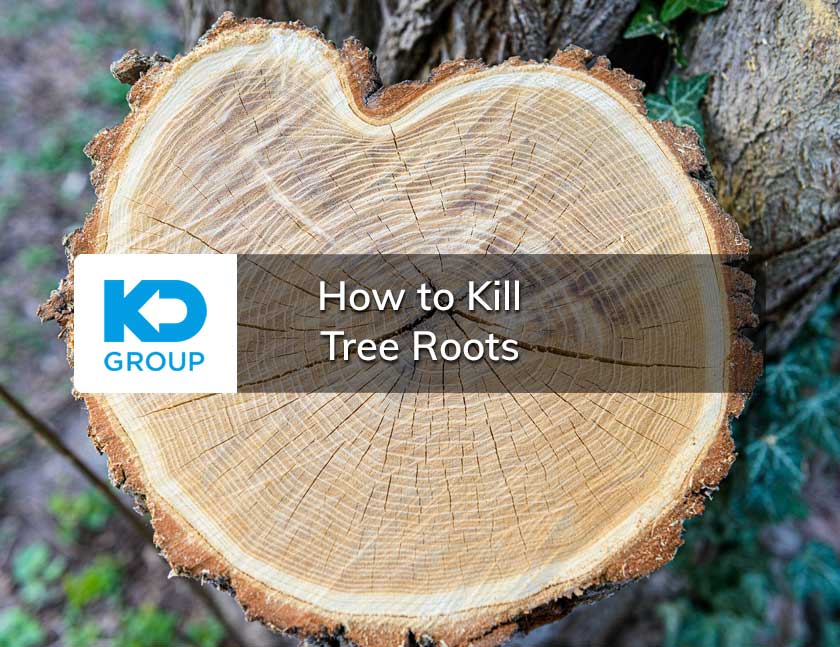 Sometimes it becomes necessary to learn how to kill tree roots if they are affecting underground drainage.
This may be due to roots causing damage to underground pipes where roots have penetrated and split the pipework.
Therefore it is important to be aware of ways to kill a tree stump as well as its roots as effectively as possible to prevent a reoccurrence.
Tools & Materials
The tools and materials that you will need will depend on the method you opt for.
This is a list of tools and materials that will generally be required:
Drill with Large Drill Bit
Axe
Chainsaw
Spade
Garden Shears
Stump Grinder
Tarpaulin or Plastic Sheet
Soil
Epsom or Rock Salt
Chemical Tree Stump Killer
Boiling Water
Protective Equipment
Block Sunlight
Sunlight is essential for a tree to survive.
So you could use a thick plastic sheet to cover up the tree stump in order to deprive it from sunlight.
Cut the stump as close to its roots as you can using a chainsaw.
Then cover it up with a tarp or thick plastic sheet.
It is best to weigh it down with some bricks or heavy rocks.
This will take some time, as it will take several months for the stump to die off completely.
But if you are in no rush it is worth a try as it is simple, effortless and safe.
It is also important to keep an eye on it to cut off any shoots that may spring out.
Epsom Salt
This is a very common method.
Epsom salt helps to accelerate the decomposition process.
Natural rotting tends to take a number of years, often ranging between three and seven years.
But if epsom salt is used it will shorten this period to around one year at most.
This is because epsom salt contains magnesium and sulfur.
If a lot of epsom salt is applied it will basically pull out moisture from the tree, and thereby kill it since it will start to decay rapidly.
This is how to go about it:
Start by drilling deep holes in the tree stump.
As a general rule these holes will need to be about an inch wide, and therefore it is best to use a power drill equipped with a wide bit.
Then, start to sprinkle the stump with water.
Subsequently cover the top of the stump with epsom salt.
Use a tarp to cover the stump so as to protect it as otherwise rain will wash away the epsom salt.
In order to seal the holes it is also a good idea to drip some candle wax onto them as this is another effective way to prevent the salt from getting blown away.
Besides reducing the effectiveness of this method, it will also end up harming the other plants and trees in the vicinity if it ends up on them.
This process will need to be repeated every few weeks.
Within a couple of months you should start to notice that the stump has started to die.
It will then be close to full decay when a year has passed.
Rock Salt
Rock salt is quite similar to epsom salt.
It helps the stump to start decaying more quickly.
Here's what you need to do:
Drill holes in the tree stump. Then pack the holes with rock salt.
Cover the stump with salt, and pour soil and mulch onto it.
Pour water over it so as to dissolve the salt.
This will also allow the roots to better absorb the solution, while also packing the soil more effectively.
It is important to keep repeating the watering process every few days, for the first two months.
This will help to keep the stump moist with the solution, thereby promoting better absorption and speeding up the decomposition process.
You may also add some potassium nitrate fertiliser as this will help fungi to grow, which also accelerates the decomposition.
Boiling Water
Boiling water is the simplest option as you do not need to buy any substance or prepare any solution.
Simply expose as much of the root structure as you can.
Drill holes in the roots, as well as on the top of the trump.
Then, start to pour boiling water over them.
The heat should kill the roots, and since there are several holes it will reach more parts of the root system and damage it severely.
Once the stump and the roots have died, the natural decomposition process will start.
Stump Killer Chemicals
You may wish to purchase a chemical stump killer product.
It is important to apply this on a freshly cut tree stump to improve its effectiveness.
Hence, if the stump has been there for a while, it is best that you re-cut it first.
It is recommended to apply chemical killers during autumn or winter.
Make sure to follow the particular instructions on the packaging.
You may wish to brush the chemical onto the stump's surface as well as pour it into holes that you drilled.
Use a Stump Grinder
Another option is to use a stump grinder.
This is the quickest option if you really need to get rid of the tree stump fast.
Needless to say, this is the most messy and noisy way to go about it.
It is also important to note that this tool should be handled with great care.
Unless you feel confident enough to handle it, make sure to contact a professional person to see to the cutting.
When using a stump grinder to cut a tree stump, it is important to wear ear protection, a mask and goggles.
Safety boots are also recommended.
Make sure there are no pets or children nearby.
First, cut the stump back with a chainsaw, so that it is as close to the ground as possible.
Then, start moving the grinder slowly over the trump's surface, working your way down the main root plate.
Try to go as far as you can.
Then, start to grind down any roots which are above the ground.
Once you are done, shovel out the sawdust and fill the hole with soil.
Dig Out the Stump & Roots
Once the stump is dead it should start to crumble easily.
Therefore it will be easy to dig it out using a spade.
However if you prefer to try digging out the tree stump prior to using any of the above methods, it is still an option.
Having said that, it is going to be more time consuming.
Hence, it may be best to have a professional who has suitable digging equipment to take care of the job as otherwise you will need both plenty of time and effort to dig it out effectively.
You will first need to expose as many roots as you can.
Then, using a chainsaw or hatchet start to cut off the larger roots.
As you work your way along you will probably find smaller roots.
These can be cut off with loppers.
Once all the roots around the stump have been cut off, try to lift the stump from the ground to remove it.
The remaining hole should be filled up with soil.
If you opted for salt or chemicals to remove the stump, do make sure that all the dead wood is removed and disposed of properly.
Set Fire to the Stump
You can opt to set fire to the stump using some kerosene.
However, in this way you will only be getting rid of the part that protrudes from the ground.
A fire will not kill the tree as the roots will still be there.
It is also important to get approval from the local fire department.
You can either drill holes in the trunk, and pour some kerosene in each hole.
Or else, you can cut deep criss-crossing lines in the stump with a chainsaw.
When lighting it up make sure to monitor how it is burning.
What to Avoid
The following are some things you should avoid doing, because they are either unsafe or ineffective.
Bleach
While pouring a large amount of bleach on a tree stump would kill it, it is highly advised to avoid this as it could prove to be very harmful to plants that are in close proximity.
It is better to opt for a more natural option, such as epsom salt.
Gasoline or Diesel
It is best to avoid applying this to burn tree stumps.
Even though they will lead to a fire, it will not be effective enough to break down the wood properly.
Moreover, this will end up being detrimental to nearby plants.
It is better to opt for kerosene if you want to burn the stump.
Other Plants
Chances are that there are plants or trees within close proximity.
So it is best to avoid burning the stump, or applying any chemicals liberally, unless you are able to keep it off from the surrounding plants.
Conclusion
As explained above, there are various options to remove a tree stump and its roots from drains.
Each has its pros and cons, and caution is always of paramount importance.
At the end of the day, none of the methods can be considered to be better than another, since it depends on how much time you can wait as well as on the size of the tree stump.
If you do not mind waiting a few months, it is better to opt for a method that allows the stump to decompose naturally.
However, in case you need to remove it quickly, it may be best to hire a professional drainage contractor to remove it as the tools that will need to be used can be very unsafe.