Should I Be Cleaning Gullies Myself?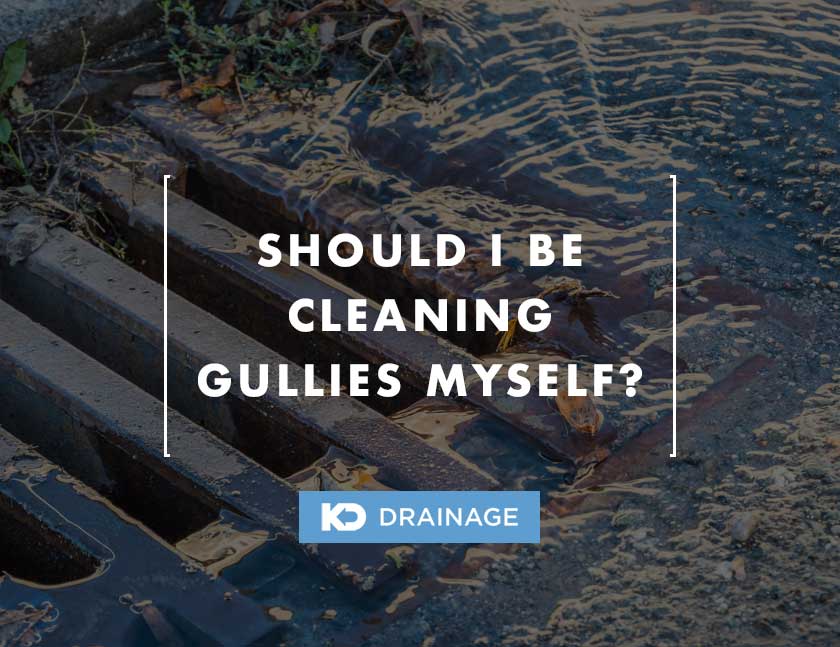 Cleaning gullies is often a job that gets overlooked by homeowners.
Yet when gullies become blocked, they can be very problematic and expensive to clear.
Gullies have a tendency to collect dirt, debris, leaves and soil which biodegrades, compacts and ends up causing standing water and localised flooding.
In the following chapters, we outline how you can easily maintain your gullies to prevent build up, and save on potentially expensive costs to have your gullies unblocked.
What is a Gully?
Street gullies, also known as storm drains, are a type of drainage system used to collect rainwater and prevent flooding on roads.
Gullies are usually located at the edge or the middle of the road, and consist of a metal grated cover over an opening in the ground leading to an underground drainage system.
The grate allows water to enter the drainage system while preventing larger debris, such as leaves and foliage from entering the system.
Once rainwater enters the gully, it flows through a network of pipes that leads to a larger drainage system.
The water is usually treated to remove pollutants before being discharged into the environment.
Street gullies are an important part of urban infrastructure, as they help to prevent flooding and improve the overall safety and accessibility of roads.
However, they also pose a hazard to pedestrians and vehicles if left unmaintained.
If left to deteriorate, they can become clogged with debris or blocked by ice and snow during the winter months.
Where are Gullies Usually Located?
Gullies are usually located at the side of the road, on the curb or the pavement.
They're often positioned at low points or in areas where water is likely to accumulate.
Typical examples being at the bottom of hills or near junctions.
What are the Benefits of Gullies?
Gullies provide several benefits, including:
Prevent Flooding
Gullies are designed to collect rainwater and prevent flooding on roads and other paved areas.
Protect Road Surfaces
By collecting and removing excess water, gullies help prevent damage to the road surface caused by localised flooding or standing water.
Improve Road Safety
Flooded roads can be hazardous for drivers, cyclists, and pedestrians.
Gullies help to reduce the risk of accidents by removing excess standing water.
Maintains Water Quality
Gullies help to protect water quality in local rivers and watercourses by removing contaminants and pollutants.
Prevents Erosion
By removing excess water, gullies help to prevent erosion of the soil and sediment, which can have a significant impact on the environment.
Overall, gullies play a crucial role in ensuring that our roads and pavements remain safe, accessible, and free from flooding and waterlogging.
How to Clean Your Gully Traps
Cleaning gullies is an essential maintenance task to ensure they're working efficiently and preventing blockages.
This helps prevent flooding and damage to roads and other local infrastructures.
Here's the general steps for cleaning gullies:
Health & Safety
Before starting any maintenance work on gullies, it's essential to ensure the area is safe to work.
This includes wearing appropriate protective gear and using traffic cones or barriers to alert drivers and pedestrians if the gully is close to a public highway.
If the gully is located on public land, stop what you're doing!
In such instances, you must contact the local water authority or a professional drainage company to handle the work.
Remove the Grate Cover
The first step is to remove the grate covering the gully.
The grate may be secured in place by bolts or screws.
If so, you may need to use a crowbar or screwdriver to remove it.
Clear Debris
Using a shovel or spade, remove any debris, silt, or leaves that have accumulated in the gully.
This may include stones, leaves, litter, and other objects that can cause blockages.
Flush the Trap
Once the debris has been removed, flush the gully trap with a hose or high-pressure water jet to remove any remaining dirt or silt.
Check the Pipes
After cleaning the gully, check the connecting pipes to ensure they're clear and free from blockages.
Replace the Grate
Once you've completed cleaning and inspecting, replace the grate covering the gully and ensure it is secure and correctly seated.
It's essential to clean gullies regularly to prevent blockages and ensure they're working correctly.
How Often Should You Clean Gullies?
The frequency of cleaning depends on the location and amount of debris that accumulates in the trap.
Typically, it's recommended to clean them at least twice a year.
What Should You Do If Your Gullies Are Blocked?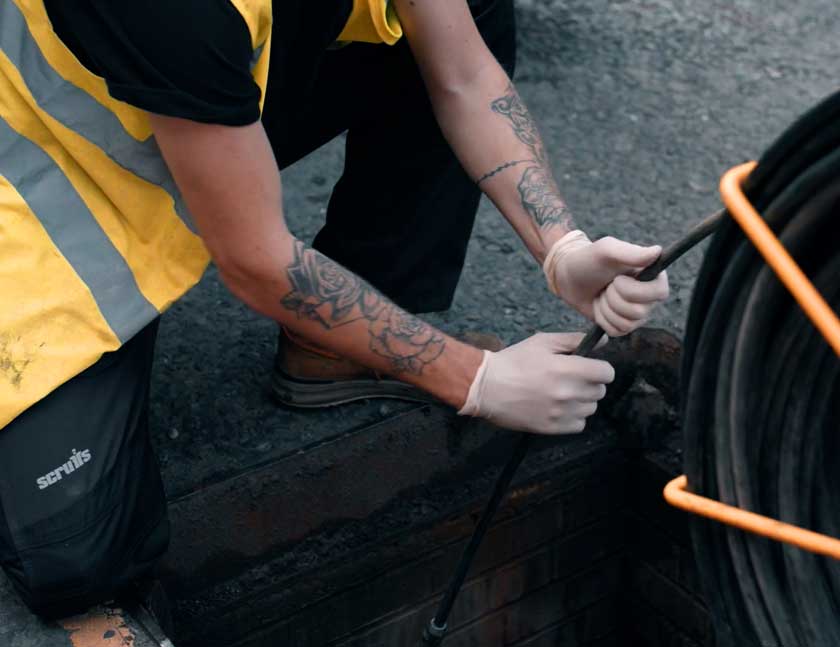 If your gullies are severely backed up and clogged, then you're best advised to contact a professional drainage company to clear the blockage.
A professional will be able to utilise specialist equipment to fully inspect the gully traps and connecting drainage system for any issues using cameras.
There may be an underlying problems as to why your gullies are becoming blocked, which a professional will be abe to locate and identify.
If this is the case, you're advised to seek professional gully cleaning.
Conclusion
Just like seasonal sweeping and cleaning, cleaning gullies should form a part of your regular property maintenance schedule.
By keeping debris such as leaves, litter and silt swept away from the grate cover, oy can help to ensure the drainage around your property remains clear and functional.
A lack of maintenance will eventually lead to a blockage which if allowed to back up, could become a more serious problem, leading to expensive repairs.