How to Fix a Waterlogged Lawn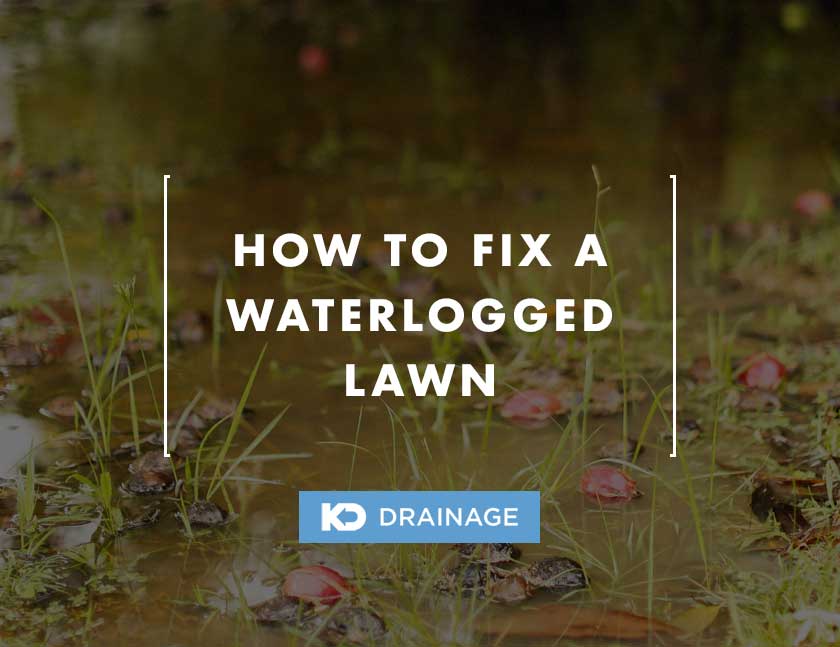 Ending up with a waterlogged lawn is definitely not pleasant.
Waterlogging is a common consequence of problems with water failing to drain away properly, especially after heavy rainfall.
A waterlogged lawn can lead to various kinds of issues, including the growth of moss and algae, puddled soil, bare patches, and root rot among others.
In the following article we shall be outlining some ways to solve a waterlogged lawn.
What is a Waterlogged Lawn?
Waterlogging occurs when rainwater sits on a lawn's surface and fails to drain.
When this occurs, it's harder for the water to drain through the soil, due to the fact that the soil is compacted and dense.
Due to waterlogging, the water ends up saturating the soil.
This means that the oxygen that's required by the roots to live will be greatly lacking.
When this occurs, the grass will start to turn into a yellowish colour and may eventually die.
Signs of a Waterlogged Lawn
When lawns are either partially or completely covered with water, it's a clear sign of waterlogging.
That said, in some cases a lawn may not be visibly saturated, but it would still have a high probability of getting waterlogged.
A sign that a lawn is prone to waterlogging is if it is squelchy to walk on it.
Another common sign of waterlogging is when puddled soil starts to form close to the surface.
If you try to walk on it, it will be rather sticky.
Another telltale sign of waterlogged lawns is when there's considerable moss growth.
Moreover, as mentioned earlier, if you notice that the grass blades have started to turn yellow, then it's clear that the lawn is waterlogged as there is a low supply of oxygen.
Causes of Waterlogged Lawns
Waterlogged lawns result when the soil is heavy or very compacted.
This is a common problem when heavy traffic or machinery are passing on the lawn.
If there was poor soil preparation when the lawn was created, such as when subsoil and topsoil ended up getting mixed together, or if the lawn was built over a water-retentive layer.
Unfortunately this is quite common in the UK.
Besides compacted soil, it is also quite common for lawns that have clay soil to become waterlogged.
This is because this type of soil drains poorly since it's considerably dense.
Waterlogging commonly results when natural groundwater underneath the lawn is just too high to allow for proper drainage.
If the lawn is situated at the bottom of a hill, or in an area where there is a low elevation, it will be much more prone to get waterlogged.
Problems Caused by Waterlogging
Waterlogging should not be taken lightly as it can lead to a series of problems and various issues, including:
Moss growth – this is highly undesirable, but it commonly results when there are waterlogging problems, especially if the lawn is not exposed to much sunlight and if the soil has a low pH level.
Algae and lichens start to thrive – the problem will become more serious since these will start to block the light from reaching the grass, resulting in more problems.
Bare patches and weeds – this is a common problem with waterlogged lawns. Often coarse grass will begin to grow, eventually leading to weeds.
Clumps of rushes and tussocks start to emerge as a result of the damp conditions.
Root rot and other diseases have a high probability of developing.
How to Check Your Lawn for Waterlogging
Here's how you can check if your lawn is prone to waterlogging.
Start by digging a hole that is around 60cm deep in the soil.
Fill the hole with water.
Leave it for 4 hours and then go to check whether there is still water in it.
If there is still water inside the hole, it's a clear sign that the lawn has poor water drainage.
How to Prevent Your Lawn from Waterlogging
The following methods can be used to prevent your lawn from getting waterlogged.
Some will be more suitable than others, depending on your lawn's size, type of soil and the level of drainage it has.
Needless to say, some will require more time, effort and costs to be made.
Dig a French Drain
A French drain will help the water that remains on the surface of the lawn to run away from it.
Digging a French drain is one of the most common options as it's very effective.
However, heavy machinery may need to be hired, so the cost is often quite high.
Moreover, following the installation of the drain, you will also need to factor in the cost of getting new soil and turf to be laid on it.
Dig a Ditch
Another option is to dig a ditch.
This is however not always possible, as it will need to be dug out at the lowest possible point to be effective.
Moreover, it's best to use this method if the lawn is not a small one.
Harvest Rainwater
Harvesting rainwater is a practical way of reducing waterlogging in your lawn.
This is basically about collecting rainwater in a number of key places so that there won't be too much water on the surface.
Water can be collected by means of butts or underground storage containers.
When the water level gets too high, it can be drained out to prevent overflowing.
Alternatively, a rainwater harvesting system can be installed so that the water can be repurposed for washing and watering.
Underground tanks will need to be installed for this option.
Install a Drainage System
One of the best ways to prevent waterlogging is by installing an effective drainage system.
Shedding away excess water is not that simple though, as you will need to consider where the water will go and the best option to direct it to.
You could either install a soakaway, a water attenuation tank or use a ditch or drain that is close by.
A popular option is to strip off the grass and dig up the area to be able to incorporate organic matter to improve the drainage.
You will then need to level it up and cover it with sharp sand and turf.
Aeration
Proper aeration is key to prevent waterlogged lawns.
The soil will have a sufficient amount of air, and so the grass roots will be able to grow and be healthy.
You can aerate the lawn by spiking it with a garden fork.
A hollow tine aerator is generally used.
Some soil will need to be removed to allow space to place horticultural sharp sand instead.
It is recommended to carry out regular aeration, especially during the spring and summer season, so that waterlogging can be prevented during the wet winter and autumn months.
Moss Killer & Fertiliser
Moss will start to grow and thrive wherever there's wet soil or dead grass patches.
Hence it's recommended that you use moss killer to prevent such growth as much as possible.
During the spring you could use fertiliser on the lawn to help the grass to recover from the wet winter season.
Fertiliser will also greatly help the grass root system to retain a strong network.
Build Permeable Pathways
Permeable pathways can work very well to allow the water to soak more easily in the soil rather than run off onto the grass.
You can build good permeable pathways from bark or shingle.
Over Seeding
Over seeding during the spring and summer months is another simple yet effective way of preventing waterlogged lawns during the following wet months.
Overseeding can be done both in bare areas as well as in places where the grass is thick.
Moss will not grow as a result, and the root structure will be more complex since the grass that grows will be considerably thicker.
It's recommended to use a grass seed that has a high resistance to damp roots for best results.
Remove & Replace the Soil
This is not a popular option as it requires considerable time and effort.
Often it's also the method that costs the most.
However, in cases where there is heavy waterlogging, this may be the only way to solve the problem.
If the soil is compacted or if it has a high concentration of clay, it's generally best to simply remove it and replace it.
Besides, replacing it with fresh soil you can also complement this by installing a french drain to achieve even better results.
Conclusion
Waterlogging can prove to be quite frustrating and problematic.
Hence, if your lawn is prone to waterlogging, it's best to do something about it to avoid the various issues that will start to result.
Waterlogging is not only something you want to avoid because it's not aesthetically pleasing, but it's also a problem that leads to a whole series of issues as we discussed above.