How to Clean a Septic Tank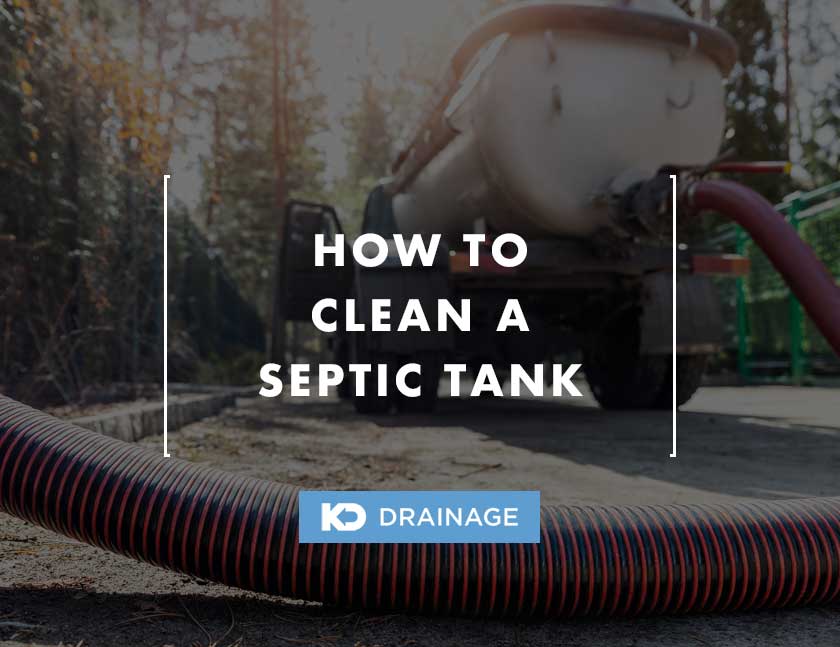 Due for a septic tank pumping in the near future ? Let us help you discover how to clean a septic tank in preparation.
A poorly maintained septic tank left with accumulated sludge and scum cannot be decomposed by bacteria.
This will lead to an expensive system failure.
Hence, it's crucial to maintain a clean tank through regular inspections and septic tank emptying.
This article aims to guide you in detecting and cleaning your tank, but note that a drainage professional is needed to pump out the waste.
Preparing the Tank
If you want to locate your septic tank, begin from the sewer pipe in the lower level of your house, if possible.
Follow its path as it exits the house to determine where the tank might be buried.
It's important to locate the tank now as it can save you both time and money later on, whether you or an inspector plans to clean the tank.
Clear Access to the Tank
In order to inspect the septic tank, you may need to dig out the top, especially if it's buried underground.
Prior to inspection, use a shovel to remove any dirt surrounding the top of the tank.
You should be able to locate the access lid, which must be secure and tightly sealed.
If you want to make it easier to locate and access the tank without digging, you can add risers on top of the tank.
These can be installed by septic tank pumping professionals like KD Drainage.
Inspect the Tank
Examine the septic tank thoroughly, both inside and out, for any signs of damage.
Any cracks that you find must be repaired by a professional after the tank is pumped to prevent system failure.
Additionally, inspect the inlet and outlet pipes for any rusted or broken pieces that could impede drainage.
If your tank has a distribution box or pump chamber attached, be sure to check those as well.
To ensure that the water is flowing correctly, run some water from your home such as the toilet or washing machine.
Then observe if it makes its way into the tank and drains properly.
Measuring Scum Depth
To measure the scum depth in your septic tank, you will need a measuring stick, also known as a sludge judge or septic tank dipstick.
Firstly, put on gloves and eye protection before beginning.
Open the access lid and lower the measuring stick carefully into the tank through the access port until it touches the top of the scum layer.
Slowly withdraw the measuring stick from the tank, taking care not to disturb the scum layer.
Observe the distance between the top of the tank and the scum layer on the measuring stick.
Record the measurement and repeat the process in several locations to get an accurate average depth of the scum layer.
Remember to clean and sanitise the measuring stick thoroughly after use.
It's recommended to measure the scum depth at least once a year to determine when the tank needs to be pumped.
If the scum layer is close to or exceeds one-third of the tank's depth, it's time to schedule a septic tank pumping service.
Cleaning the Baffle Filter
Cleaning a baffle filter is an important maintenance task that should be performed regularly, at least once or twice a year.
This helps prevent clogs and ensures the septic tank operates properly.
First, locate the baffle filter in the septic tank.
It's typically located near the outlet baffle, which separates the liquid layer from the outlet pipe.
Use a pair of gloves to protect your hands and a small brush or scrubber to clean the filter.
Avoid using a wire brush or any other abrasive tools that could damage the filter.
Remove the baffle filter from the tank and place it on a flat surface nearby.
Gently scrub the filter with the brush or scrubber to remove any solid waste or debris that has accumulated on the filter.
Be careful not to damage the filter while cleaning it.
Once the filter is clean, rinse it thoroughly with water to remove any remaining debris or residue.
Put the baffle filter back into the septic tank in its original position.
Finally, clean and sanitise any tools used in the process.
How Often Should You Pump the Tank?
It's a common question, but how often should you empty a septic tank?
Regularly pumping your septic tank every few years is essential to prevent costly repairs and keep your system functioning properly.
Neglecting to maintain your tank can result in clogs with sludge and scum that will eventually cause liquid to stop draining.
This is why it's important to treat your tank before it reaches this point.
It's recommended to have your septic tank pumped every one to three years, or when the sludge and scum levels occupy about a third of the tank or are approaching the outlet pipe.
The frequency of pumping will also depend on the size of your tank and the number of people it services.
For example, a standard 750-gallon tank in a two-bedroom home will last about four years for two residents before requiring pumping.
For four residents, the tank will need to be pumped in less than two years.
Annual treatment, which costs a few hundred dollars, can keep your tank clean and detect any potential problems before they turn into serious septic failures.
Don't make the mistake of assuming that your tank doesn't need to be pumped as long as your plumbing appears to be functioning correctly.
Take proactive measures to maintain your septic system, and you'll end up saving thousands of dollars in costly repairs in the long run.
Septic Tank Cleaning Process
To properly maintain your septic system, pumping out waste is a crucial step.
This process involves using a cast-iron pump that can be switched on to remove solids that cannot be broken down by bacteria.
The pump will then extract the sludge and scum out and deposit it into a container such as a specialist tanker.
Once the pumping is complete and the sludge and scum have been removed, it's not necessary to reintroduce bacteria or water into the tank.
Simply allowing the tank to fill up naturally with the waste from your home will allow the bacterial balance to restore itself over time.
Regular pumping, every one to three years, will help prevent clogs and costly repairs while keeping your septic system running smoothly.
Disposing Septic Tank Waste
While it may be tempting to try to pump out your septic tank yourself, it's important to remember that the waste must be disposed of legally and safely.
This means that the waste must be transported by a tanker to a government-approved location that is far away from water sources and areas where people congregate.
For this reason, it's generally better to let a drainage professional handle the pumping and disposal process.
Professionals have the necessary equipment and knowledge to safely remove and dispose of the waste, ensuring that your septic system is properly maintained and in compliance with local regulations.
This can help prevent environmental damage and costly fines for improper disposal.
Is Cleaning a Septic Tank Dangerous?
Septic systems contain sewer gas that can be extremely dangerous and even fatal.
This gas is odourless and can quickly overcome an individual without warning, making it a silent and deadly threat.
For this reason, it's highly recommended that homeowners never attempt to work on their septic system themselves.
To stay safe, it's best to contact a professional drainage company with the necessary equipment and training to safely work on septic systems.
This will help ensure that the system is properly maintained without putting yourself or others at risk of exposure to dangerous sewer gasses.
Remember, the safety of you and your family is not worth risking to save a few pennies on maintenance or repairs.