What is Pipe Lining?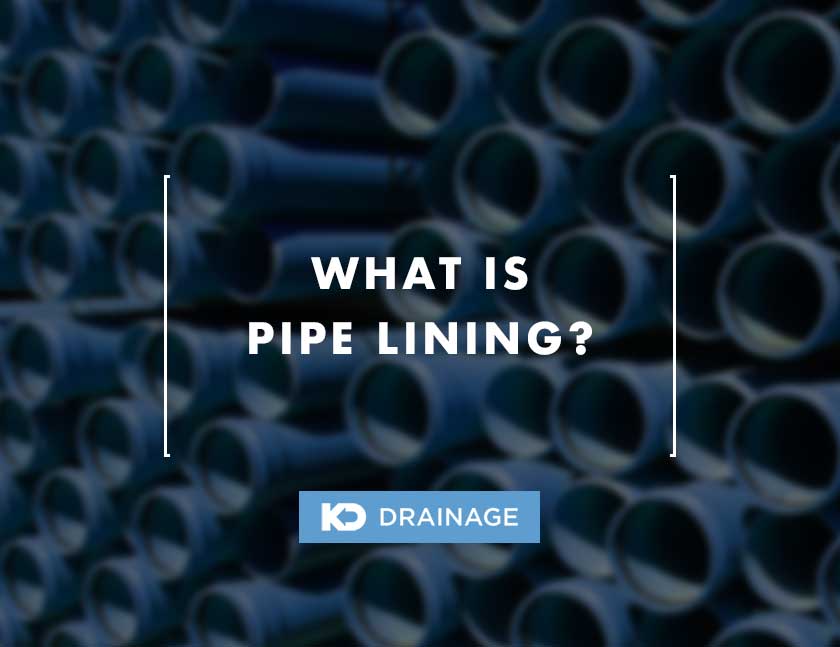 When it comes to maintaining the infrastructure of our cities and ensuring a smooth and efficient flow of wastewater and drainage systems plays a crucial role.
However, these systems can deteriorate over time, leading to leaks, blockages, and costly repairs.
That's where pipe lining comes in as a game-changing solution.
Pipe lining has emerged as a revolutionary technique for rehabilitating and reinforcing existing drainage pipes without requiring extensive excavation or replacement.
It offers a cost-effective and efficient way to extend the lifespan of drainage systems while minimising disruption to surrounding areas.
This blog post will dive into sections explaining pipe lining, its definition, advantages over traditional methods, and other considerations.
What is Pipe Lining?
Pipe lining is an innovative and efficient technique used to rehabilitate and reinforce existing drainage pipes.
It involves inserting a new lining material into the damaged or deteriorated pipe, creating a seamless and structurally sound inner layer.
This method eliminates costly and disruptive excavation or complete pipe replacement.
Pipe lining can be applied to various pipe materials, including clay, concrete, cast iron, and PVC.
By effectively restoring the functionality of drainage systems, pipe lining has become a popular choice for municipalities, property owners, and infrastructure managers seeking sustainable and cost-effective solutions for maintaining and prolonging the lifespan of their pipes.
Types of Pipe Lining Process
When it comes to pipe lining, various materials and methods are used based on the specific requirements and conditions of the drainage system.
Let's explore three common types of pipe lining:
Cured-in-Place Pipe (CIPP) Lining
CIPP lining is one of the most widely used methods for pipe rehabilitation.
It involves using a flexible fabric tube, typically polyester, fibreglass, or a combination of both.
This fabric tube is impregnated with a liquid resin that hardens and cures when exposed to heat, steam, or UV light.
CIPP lining is versatile and can be used for various pipe sizes and materials.
It is particularly effective for rehabilitating pipes with cracks, leaks, or corrosion.
Pull-in-Place (PIP) Lining
The Pull-in Place method is an ideal solution for repairing extensive damage that cannot be addressed by Cured-in-Place Pipe (CIPP) lining.
As the name suggests, this method involves pulling the lining material into place and securing it using heat or the same steaming method employed in CIPP.
However, unlike CIPP, the lining material used in Pull-in Place is typically fibreglass or resin-based.
This technique is particularly effective for situations requiring added strength and durability to reinforce the existing pipe.
Spray Lining
Spray lining, also known as spray-on pipe lining or epoxy lining, involves the application of a liquid epoxy coating to the inner surface of the existing pipe.
This method is commonly used for smaller-diameter pipes or pipes with irregular shapes.
Spray lining is advantageous for its quick installation process and the pipe system's ability to navigate bends and curves.
It provides excellent corrosion resistance and can help improve the hydraulic performance of the drainage system.
What is the Pipe Lining Process?
The pipe lining process typically involves several vital steps to ensure the successful rehabilitation and reinforcement of the existing pipe.
While the specific details may vary depending on the lining material and method used, here are the general steps involved in pipe lining:
Inspection & Assessment
The first step is to inspect and assess the existing pipe's condition thoroughly.
This may involve using CCTV cameras or other specialised equipment to identify cracks, leaks, or blockages.
Cleaning & Preparation
Before lining the pipe, it must be cleaned thoroughly to remove any debris, sediment, or obstructions.
High-pressure water jets or mechanical cleaning tools are often used for this purpose.
Measurement & Preparation of Lining Material
The lining material, whether a flexible fabric tube, spray coating, or fold-and-form material, is measured and prepared according to the dimensions of the pipe to be lined.
Insertion & Positioning
The lining material is inserted into the pipe using various methods such as air pressure, water pressure, or mechanical means.
It's carefully positioned and guided through the pipe to ensure proper coverage.
Inflation or Spraying
For materials like Cured-in-Place Pipe (CIPP) lining, the fabric tube is inflated using air or water pressure.
This allows the lining material to expand and conform to the shape of the existing pipe.
In the case of spray lining, the liquid coating is sprayed onto the pipe's inner walls, ensuring even coverage.
Curing
The lining material is then cured to harden, forming a solid, durable inner layer.
Depending on the specific lining material, this can involve using heat, steam, UV light, or a combination of methods.
Quality Control & Inspection
After the curing process, the newly lined pipe undergoes a thorough quality control inspection.
This ensures that the lining is properly bonded, defects-free, and meets the required standards.
Restoration & Reinstatement
Once the pipe lining is deemed successful, any access points or openings made during the process are sealed, and the surrounding area is restored to its original condition.
This may include backfilling trenches, repairing landscaping, or reinstating any temporarily removed structures.
It's important to note that these steps are a general guideline and may vary depending on the specific circumstances and requirements of the pipe lining project.
Consulting with professionals experienced in pipe lining is crucial to ensure the proper execution of each step and the overall success of the rehabilitation process.
These professionals also ensure that pipe lining rules are followed, as mentioned by the Home and Safety Executive (HSE).
What are the Benefits of Pipe Lining?
Pipelining is used to repair and restore damaged or deteriorated pipelines without extensive digging or excavation.
Here are some of the benefits of pipelining:
Minimal Disruption
Pipelining eliminates the need for extensive excavation, which means minimal disruption to the surrounding environment, landscaping, and infrastructure.
It is an ideal solution for areas where excavation is difficult or prohibited, such as under buildings, roads, or established gardens.
Cost-Effective
Traditional pipe replacement methods involve digging up the old pipes, which can be time-consuming and expensive due to labour, equipment, and restoration costs.
Pipelining eliminates these expenses by repairing the existing pipe, saving time and money.
Faster Installation
Pipelining is typically a quicker process compared to traditional pipe replacement methods.
The new lining can be inserted and cured relatively quickly with specialised equipment.
This reduces the downtime and inconvenience associated with pipe repairs.
Durability & Longevity
Pipe lining involves creating a new pipe within the existing damaged pipe using a resin-coated liner.
This liner is strong, durable, and resistant to corrosion, cracks, and leaks.
The relined pipe has a long lifespan, typically lasting for several decades.
Improved Flow Capacity
The new pipe lining is smooth and seamless, improving the rehabilitated pipeline's flow capacity.
The smooth surface prevents debris accumulation, root intrusion, and mineral build-up, which can restrict the flow in old, deteriorated pipes.
Versatility
Pipe lining can rehabilitate various types of pipes, including sewer lines, stormwater
drains, and water supply pipes.
It can be applied to pipes of different materials, such as clay, concrete, PVC, and cast iron.
Environmental Friendliness
Since pipe lining minimises excavation and the need for new pipe materials, it has a lower environmental impact than traditional pipe replacement methods.
It reduces soil disruption, preserves landscaping, and minimises waste generation.
How Do You Know If You Have a Drain Problem?
There are a few common signs that you may have a drain problem. These include:
Slow draining: If the water takes a long time to drain down the drain, this is a sign that there may be a drain blockage.
Sewer smells: If you can smell sewer gas coming from your drains, this problem must be addressed immediately.
Backups: If water backs up into your sink, toilet, or shower, this is a sign of significant blocked drains.
Gutters overflowing: If your gutters are overflowing, this can cause water to back up into your drains and cause problems.
Stains on your foundation: If you see stains on your foundation, this could be a sign of water damage caused by a drain problem.
There are many ways to clear blocked drains using home ingredients, clothes hanger, plunger.
How Long Does Pipe Lining Last?
The lifespan of pipe lining can vary depending on several factors, including the quality of the materials used, the condition of the existing pipe, and the environmental conditions it is exposed to.
However, properly installed and maintained pipe lining systems can last several decades.
In some cases, pipe relining can last 50 years or more.
The resin-coated liner used in pipe lining is highly durable and resistant to corrosion, cracks, and leaks.
Regular inspections and maintenance can extend the lifespan of the relined pipe, ensuring its long-term functionality and performance.
Frequently Asked Questions
Q. What is the difference between pipe lining and coating?
Pipe lining involves creating a new, seamless pipe within an existing damaged pipe using a resin-coated liner.
It reinforces and restores the structural integrity of the pipe.
On the other hand, pipe coating refers to applying a protective layer on a pipe's inner or outer surface to prevent corrosion, increase durability, or improve flow characteristics.
Q. How much does pipe lining cost?
The cost of pipe lining can vary depending on various factors, such as the length and diameter of the pipe, the extent of damage, accessibility, and local labour rates.
It's best to contact local plumbing or drain lining professionals for accurate cost estimates based on your specific situation.
Q. Does drain relining work?
Drain relining is an effective method for repairing damaged or deteriorated drains.
It involves creating a new pipe within the existing drain using a resin-coated liner, reinforcing the pipe and restoring its functionality.
When properly installed, drain relining can provide long-lasting and reliable results.
Conclusion
In conclusion, pipe lining is a highly effective and efficient method for repairing damaged or deteriorated pipelines.
By creating a new, seamless pipe within the existing one, pipe lining eliminates the need for extensive excavation, reduces costs, and minimises disruption to the surrounding environment.
It improves flow capacity, durability, and longevity, making it a reliable solution for various types of pipes.
If you need professional drain lining services in the Kent area, contact KD Drainage for expertise and experience in providing top-quality pipe relining solutions.