What is a Grease Trap & How Does It Work?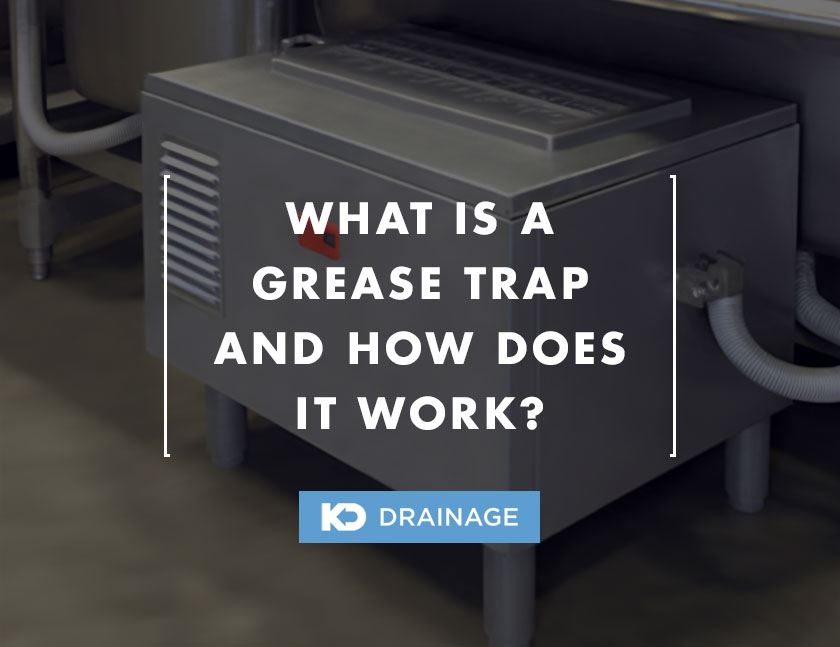 In the bustling and sizzling world of commercial kitchens and restaurants, where delectable dishes are prepared with precision and care, there exists an often-overlooked champion.
This unassuming contraption, quietly nestled beneath sinks and dishwashing stations, stands as a sentinel of cleanliness and environmental responsibility.
It is the grease trap, a marvel of simplicity and engineering, tirelessly fulfilling a critical mission: to shield the intricate plumbing systems from the relentless onslaught of fats, oils, and grease, commonly referred to as FOG.
In this article, we embark on a journey to explore the world of grease traps, shining a spotlight on their purpose, mechanisms, applications, and the considerations surrounding their use.
Much like the unsung heroes of any great culinary masterpiece, grease traps deserve recognition and understanding for their invaluable contribution to the smooth and eco-friendly functioning of commercial kitchens and beyond.
Join us as we uncover the mysteries and merits of these unassuming champions in the realm of sanitation and sustainability.
What is a Grease Trap?
A grease trap, sometimes called a grease interceptor or grease collector, is like a hero in the plumbing of restaurants.
Its main job is to stop fats, oils, and grease from getting into the pipes when kitchens and restaurants use water.
Grease traps come in different sizes and shapes, depending on how big the kitchen is.
Some look like small boxes under sinks, while others are more complex for big kitchens.
But they all have the same goal: to catch FOG before it enters the pipes.
They work quietly but play a crucial role in preventing FOG from causing problems.
If FOG goes into the pipes, it can cool and turn solid, creating clogs, blocked drains, and even harm to the kitchen's plumbing and the city's sewer system.
So, grease traps are essential protectors for kitchens and the environment.
How Does a Grease Trap Work?
A grease trap works through a simple yet highly efficient process.
Wastewater Inflow
Grease traps are strategically placed in the plumbing system, usually below sinks, dishwashers, and cooking equipment in commercial kitchens.
When wastewater, which contains fats, oils, and grease (FOG), flows into the grease trap, the process begins.
Separation
Once the wastewater enters the grease trap, the water starts to cool down.
As it cools, the FOG within it begins to change.
Fats, oils, and grease solidify and float to the top of the trap, forming a layer.
Solid Particles Settle
Simultaneously, solid food particles and other debris within the wastewater, which are denser, settle to the bottom of the grease trap.
Wastewater
Between the floating FOG layer at the top and the settled solids at the bottom, a middle layer of relatively clear water emerges.
This wastewater is then released into the sewer system for treatment.
FOG Accumulation
Over time, as more and more FOG and solids are captured, they need to be removed to keep the grease trap functioning effectively.
Periodically, the accumulated FOG at the top is taken out and disposed of properly.
Similarly, the solid waste settled at the bottom is also removed during routine maintenance.
By efficiently trapping FOG and solid debris, grease traps prevent these substances from entering the sewer lines.
If they were allowed to enter the sewers, they could cool and solidify, leading to blockages, backups, and potential damage to the plumbing system.
Grease traps, in essence, act as guardians, ensuring the smooth flow of wastewater while keeping FOG-related problems at bay.
Where Are Grease Traps Found?
Grease traps are a common fixture in various commercial settings where the production of wastewater containing fats, oils, and grease is prevalent.
Here are some key locations where grease traps are typically found:
Restaurants
Grease traps are a fundamental component of restaurant kitchens. They effectively capture FOG generated during cooking, dishwashing, and cleaning activities, preventing it from entering the sewer system.
Cafeterias
Cafeterias, especially those serving a high volume of meals, utilise grease traps to handle the substantial FOG generated during food preparation and cleanup, thus avoiding sewer blockages.
Hospitals
Hospital kitchens produce significant quantities of FOG due to the preparation of large quantities of meals. Grease traps are essential in these settings to maintain hygiene and safety standards.
Schools
Similar to cafeterias, school kitchens require grease traps to manage FOG produced during meal preparation, ensuring the smooth flow of wastewater without causing plumbing issues.
Hotels
Hotels with dining facilities and kitchens providing room service rely on grease traps to prevent FOG-related plumbing problems. This helps maintain the operational efficiency of their kitchens.
Food Processing Plants
Industrial-scale food processing generates substantial amounts of FOG. In such settings, larger and more robust grease traps are often employed to effectively manage and contain FOG.
Bakeries
Even bakeries, where baking equipment and cleaning processes can generate FOG, make use of grease traps to capture and contain these substances.
How Much Does a Grease Trap Cost?
The cost of a grease trap can vary significantly, influenced by several key factors that determine its overall price.
One of the most important considerations is the size of the grease trap.
These traps are available in various sizes to accommodate different volumes of wastewater laden with FOG.
Smaller grease traps designed for use under sinks in small restaurants or food service establishments are generally more affordable, typically priced at a few hundred,  with some of the bigger industrial grease traps costing in the thousands..
Another factor influencing the cost is the type of grease trap.
Grease traps come in different varieties, including in-ground and above-ground models.
Those designed for industrial kitchens or facilities with high FOG production tend to be larger and more complex.
Installation complexity is another critical factor impacting the overall cost of a grease trap.
The process of installing a grease trap involves making plumbing modifications to incorporate it into the existing wastewater system.
The level of complexity of this installation can significantly influence costs.
In some cases, retrofitting an older plumbing system to accommodate a grease trap can be more expensive than installing one during the initial construction phase of a facility.
While the initial cost of purchasing and installing a grease trap may appear significant, it's important to recognize the potential cost savings it offers in the long term.
Grease traps play a crucial role in preventing expensive sewer line blockages, which can be financially burdensome to rectify.
Furthermore, they contribute to preventing environmental problems that can result in substantial cleanup costs.
What are the Advantages of Using a Grease Trap?
Employing a grease trap in a commercial kitchen or food service establishment brings forth a range of significant advantages.
These advantages underscore the importance of using this essential plumbing device. Here's a detailed exploration of the benefits it offers:
Prevents Sewer Blockages
One of the primary and most compelling advantages of utilising a grease trap is its ability to prevent sewer blockages.
FOG has a notorious reputation for congealing and accumulating within plumbing systems. When this happens, it can lead to severe blockages in sewer lines.
These blockages can be not only financially costly but also incredibly disruptive to rectify.
Grease traps capture and contain FOG before it has a chance to enter the sewer system.
This preventive measure alone can save businesses substantial expenses and maintain the smooth flow of wastewater.
Environmental Protection
Grease traps play a pivotal role in protecting the environment.
When FOG enters water bodies, whether through sewer overflows or improper disposal, it can have detrimental effects on aquatic life and ecosystems.
FOG can create thick, oxygen-depleting layers on the water's surface, harming aquatic plants and animals.
By effectively capturing and containing FOG, grease traps help prevent these environmental hazards. This makes them a crucial component of responsible environmental stewardship.
Compliance with Regulations
Many local and national regulations and ordinances mandate the use of grease traps in commercial kitchens.
These regulations are in place to ensure compliance with environmental and sanitation standards.
Using a grease trap not only helps businesses adhere to these legal requirements but also demonstrates a commitment to responsible and sustainable practices.
Long-Term Cost Savings
While there is an initial investment associated with purchasing and installing a grease trap, the long-term cost savings it provides are substantial.
As previously mentioned, preventing sewer blockages is one of the key advantages.
The expenses associated with clearing blocked sewer lines, repairing plumbing damage, and conducting environmental cleanup can be exorbitant.
Grease traps serve as a cost-effective preventive measure, reducing the risk of these costly issues.
Moreover, by maintaining the efficient flow of wastewater, businesses can avoid disruptions to their operations, which can also translate into significant financial savings over time.
What are the Disadvantages of Using a Grease Trap?
While the utilisation of a grease trap in commercial kitchens and food service establishments offers numerous advantages, it's essential to consider the associated disadvantages.
These drawbacks shed light on the challenges and considerations that come with their use. Here's an in-depth exploration of these disadvantages:
Maintenance
Grease traps necessitate regular and diligent maintenance to function effectively.
This includes the routine removal of grease and solid waste that accumulate within the trap.
While maintenance is essential for preventing blockages and ensuring the trap's efficiency, it can be a messy and time-consuming task.
Establishments must allocate time, resources, and manpower to carry out these maintenance activities.
Neglecting maintenance can lead to reduced trap efficiency and potential plumbing issues.
Space Requirements
The size of grease traps can vary significantly, with larger traps capable of accommodating more substantial volumes of wastewater and FOG.
However, this size variance can be a limitation for some establishments, especially smaller kitchens with limited space.
Installing a sizable grease trap may necessitate rearranging kitchen layouts or sacrificing valuable storage or preparation areas.
Balancing the need for effective grease management with available space can be a logistical challenge.
Initial Cost
The initial cost of purchasing and installing a grease trap can be a significant financial burden for small businesses or startups.
Depending on the size and type of trap required, this upfront investment can range from hundreds to thousands of dollars.
For businesses operating on tight budgets, this initial expense can pose a challenge, although it's crucial to consider the long-term cost savings and benefits they offer.
Odour
Grease traps, if not adequately maintained, can emit unpleasant odours.
FOG and food particles that accumulate within the trap can decompose, leading to foul smells in the kitchen area.
This odour issue not only affects the working environment for kitchen staff but can also be unpleasant for customers in dining areas.
Proper and regular maintenance is essential to mitigate this disadvantage.
Conclusion
In commercial kitchens and food service establishments, grease traps serve as unsung heroes, silently working to prevent costly and environmentally harmful FOG-related sewer blockages.
These unassuming devices, with their simple yet effective operation, play a vital role in maintaining clean and functional plumbing systems.
While they come with costs and maintenance requirements, the benefits of using grease traps in terms of environmental protection, compliance, and long-term cost savings make them a wise investment for businesses that rely on the safe and efficient operation of their kitchen plumbing systems.